Refine By
Your Guide To TV Shopping
Buying a new TV for your home can be an intimidating feat. With so many options to choose from—like a 4K TV, an HD TV, a large screen TV, or even a smart TV—deciding which one is a worthy investment for you can seem a bit overwhelming. But don't stress, this guide to TV shopping outlines some of the most popular TV options to help you pick the perfect addition to your home. Learn what you want in a TV and how certain models set themselves apart from others.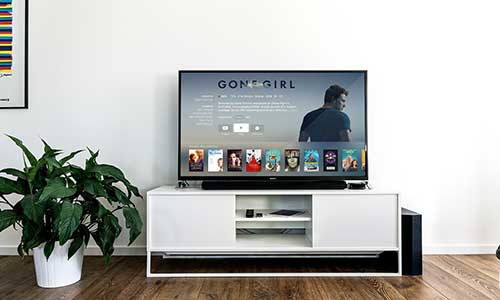 4K TVs Provide Optimal Viewing Quality
If high resolution is your focus when buying a TV, one of the best ones the market currently is the 4K TV option. These generally have a resolution of 3,840 x 2,160 or more pixels for insanely clear viewing. Why does this type of TV offer a clearer screen than others? Because the more pixels a TV has, the more detailed the picture will be. The 4K TV resolution is similar to high definition TVs (HD TVs), but is just slightly larger. These TVs are popular for gaming and watching movies that support the high resolution of the TV.
HD TVs Are A Popular Option For Home Viewing
High definition TVs offer a clear and detailed picture thanks to their digital streaming abilities. Most movies, games, and broadcasting networks are now producing their content for digital broadcast, which is now most TVs on the market. They replaced the analog TV of the past, as analog content became obsolete with the switch to digital. But high definition is just the basic and standard model of TVs now. Some newer models even have ultra high definition with an even higher pixel resolution that rivals the before mentioned 4K TVs.
Smart TVs Offer Upgraded Content
Smart TVs use internet connection to bring you services like on demand video streaming and access to online applications. You can purchase a TV that is already equipped with smart connections, or you can buy add ons like a Roku Streaming Stick, Amazon's Fire Stick, or Google Chromecast. Smart TVs often have higher memory to record/store your content as well, and have the ability to stream music, show you the weather through apps, and more. Some are even equipped with voice assistants like Amazon's Alexa.
TV Sizes Can Fit Any Space and Preference
While large screen TVs are popular in many homes today, some families prefer smaller options as well. Small TVs are especially popular in rooms like bedrooms and kitchens, or family rooms with less space or less of a focus on the TV. The most popular sizes of TVs include smaller sized screens like 24" or 28", medium sized screens like 32", 42", or 48", and large screens that are generally 55", 60", or larger. It's important to keep the size and setup of your room in mind when choosing a new TV, so it will properly fit in your space.
TV Accessories Make Your New TV Even Better
When you're buying a new TV, you'll also want to consider accessories. These range from stands to streaming sticks, which when added can enhance your TV viewing experience. So grab your popcorn and read on for the current top-selling TV accessories.
Digital TV Antenna: Digital TV antennas, like HGTV antennas, allow access to a greater variety of high definition shows, especially if you live in remote areas with poor signal. This antenna will let you access free local and live HD broadcasts in your area. There are both indoor and outdoor TV antenna options, and various range options to choose from.
Screen Cleaning Kits: You'll want to keep your TV screen clean, because there's nothing worse than an annoying smudge blocking your movie view. But some smudges and dirt spots can be hard to clean off, which is why microfiber cloths and cleaning solutions made specifically for digital screens are a must. These are especially helpful for LED or LCD screens.
TV Wall Mount: TV wall mounts attach your TV to the wall and hold it suspended. These mounts are often designed to hold flat-screen TVS, since they can sit flush against the wall. Many are designed to allow the TV to slide or move slightly to access any plugins or cord connectors located on the back of the TV.
Universal Remote Control: With TVs, smart TV boxes, DVD players, gaming systems, and more, the amount of remotes you have to keep track of can become nearly unmanageable. Skip the 20-minute pre-movie remote search with a universal remote control that can access all your media devices.
TV Stand or Entertainment Center: TV stands, or their often bigger and more elaborate alternative—entertainment centers, hold and display your TV. They can include shelves or draw eyes with a beautiful design, and can be made of metal, wood, or even glass.