Rugs
Refine By
Your Home Needs A Rug—Here's 5 Reasons Why
Rugs are hardworking, versatile home heroes. From large area rugs to washable kitchen rugs, these functional additions have a surprising amount of power in a room. Not only do they elevate the look and feel of your home, but they are functional and offer many benefits. If you're considering adding a rug to a room in your house—whether you're thinking of an area rug for your hardwood living room floor or a kitchen rug for your kitchen adorned with tile, here's a list of 5 benefits that just might solidify your decision.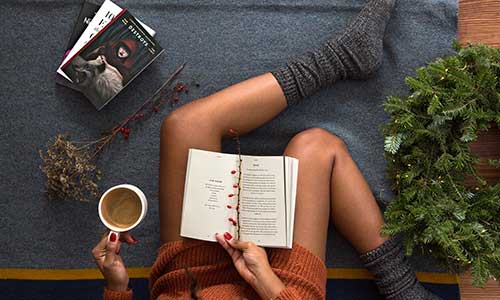 Unique Rugs Add Coziness and Character To Any Space
Rugs that have unique characteristics and added character, like persian rugs and braided rugs, can add often much-needed color and textural variance to a room. Even if you choose to go with a solid colored and simple option, there's no denying how much cozier a room feels after a rug is added—no matter the size or design. Whether it's an area rug in the living room or a fuzzy bath mat placed outside the bathtub, a rug pulls together the style of a room and adds a final, intimate decor touch. They even can be used to cozy up your stairs and add grip support for added safety. Plus, there's no denying how much better having something soft under your toes feels after a long day than a cold, hard floor.
2. You Don't Have To Commit To A Rug Long Term
Most rugs are movable and are generally quite easy to do so. This means you can pick out a color, size, and style you love without worrying about if it will match your room's decor years down the road. If you decide to switch up the design style of your room or if you fall out of love with the rug, you can easily move or replace it with a different option. This works especially great for large areas like living rooms or bedrooms, if you want the look and feel of carpet but don't want to go through the actual installation period. If you know you're going to want the rug for a long time, consider investing in a high-end material and routine maintenance so you can enjoy it for years to come. If you're only purchasing the rug for short-term usage, consider an eco friendly rug option like organic cotton or wool, and donate or dispose of it properly when you decide to let it go.
3. There's A Rug in (Almost) Every Size And Color
From large area rugs to small throw rugs, round to runner, and kitchen to bathroom, there is an amazing amount of freedom when it comes to choosing a rug. Large rectangular or round rugs work great to scale a large space, while decorative throw rugs are the perfect size for placing at the foot of your bed. Some are waterproof, like assorted kitchen rugs, and some are made of sturdy material, like natural fiber jute rugs. No matter what the size, look, or conditions are of your space, there is most likely a rug that will work perfectly in every way.
4. Padded Rugs Reduce Noise
Rugs, like carpet, help absorb sounds in a room—especially if a pad is placed underneath. This reduces unwanted background noise like footsteps or puppy paws on hardwood flooring. Reducing this noise can help improve the atmosphere in the room and allow for clearer conversations and a more relaxed, uncluttered environment. Rug pads can be purchased separately from your rug, as there are various sizes and shapes to choose from. If your rug is abnormally sized, don't stress! Some companies even make the pads custom to order, so you'll have the perfect fit. Choose a pad that will hold your rug in place if it's slipping and sliding, or opt for a super cushioned or supportive one for comfort.
5. Outdoor Rugs Can Withstand The Elements
Indoor/outdoor rugs are made with materials that are capable of standing up to the wear and tear of outside usage. Most are waterproof or water-resistant and resist mold or mildew. These make perfect additions to patios, backyard entertaining areas, and even campsites. Often these rugs can be spot cleaned or scrubbed with a mild soap and rinse if they get extra dirty, but check the manufacturer care instructions for your particular rug before use just to make sure. These rugs are strong, but often will benefit from a little extra TLC ever once and a while, like hanging to dry after a heavy rain or cleaning immediately after a juice or wine spill.