Refine By
The Perfect Lighting For Any Space
Lighting is an essential decor element in every home. It illuminates your space and has the potential to create a cozy and inviting atmosphere ready for entertaining guests or enjoying relaxing self-care days. Different lighting fixtures and bulbs give off very different light and ambiance, so some fixtures work better in certain rooms than others. For instance, track lighting works great in a kitchen to illuminate featured items or spaces, while recessed lighting adds the perfect soft glow to a living room. Whether you're building a new home or doing a room or house renovation project, make sure you know the different lighting options and room recommendations listed below. And don't forget to think about adding smart-home lighting hookups to connect your lights with your home's virtual assistant.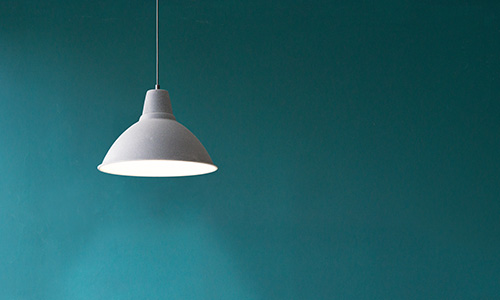 Lamps for Supplemental Lighting
Lamps are the most flexible supplemental lighting option. They can be big or small, tall or short, and come in a variety of styles and colors. Small desk lamps work perfectly for home offices, table lamps look great on living room or bedroom end tables, and large, floor lamps can function as both decor and a source of light when placed in the corner of a living room or in any other designated spot that they won't be in the way. Lamps are movable, so they can shift when you rearrange your room and are easy to maintain—like when a lightbulb goes out.
Track Lighting for Ambient Light
Track lighting fixtures are installed in the ceiling and feature multiple light bulb heads on a single track. These lights are often movable to slide up or down the track to create the exact lighting arrangement that best fits your room. The track that these lights sit on can be straight, wavy, zigzag, or in other designs. Since the light from track lighting fixtures is made up of the light from multiple small bulbs or lanterns, this lighting is often more dispersed. The bulbs themselves can act as small spotlights, and be used to feature a painting on a fireplace mantel, a collection of pots and pans hanging in the kitchen, or to diffuse the light over a bathroom tub. Pick out a track lighting fixture to have installed, or if you have electrical knowledge and want to do it yourself, complete track lighting kits include the main components you will need.
Pendant Lighting for Focused Light
Pendant lighting, sometimes referred to as drop lighting, is generally a suspended light fixture hanging from the ceiling. You can choose to feature one large light, or multiple small fixtures hung in a row or cluster to illuminate your space. Pendant light fixtures come in a wide variety of sizes and styles to match any personal design style. Choose modern pendant lighting to hang over your kitchen island, or mini pendant lighting for your cozy bathroom. Pendant lighting lets you add character and charm with fun fixtures and helps to create the illusion of a cozier space, especially if you have higher ceilings. These lighting fixtures are most commonly used in kitchens, but can also be used in bathrooms, living rooms, and studies.
Recessed Lighting for Soft Lighting
Recessed lighting, also known as can lighting, is tucked into the ceiling so the fixture is flush with the level of the ceiling. These small lighting fixtures, which include the bulb, a baffle to reflect or soften the light, and a trim, are often only a few inches wide and used in groups to create the desired amount of lighting. They can be used to illuminate a small space in a room, like a kitchen island, or used to provide light to an entire space. This works great for rooms with low ceilings or to accompany other lighting fixtures in a larger room. These fixtures can come in waterproof, sealed designs for use in a shower or bathroom as well. Professional installation is recommended, since these lights typically have intricate wiring systems above the ceiling line.
Wall Lights for Decor
Wall lights are mounted on a wall, and are often used to decorate a room. They can be modern or traditional in style, and come in many different designs like sconces, stem lights, or movable options. While these lights do give off light in varying degrees, their main purpose is to be used as decor or as supplemental lighting, and typically do not give off enough light to illuminate an entire room. Unlike lamps, these fixtures are supplemental lighting that does get installed into the wall, unless you are hanging a battery-operated or temporary wall light.
Outdoor Lighting for Gathering Areas
Outdoor lighting is designed to withstand the elements outdoors, so it can be installed on a patio or deck, along a sidewalk, or even near a garden or pool area. LED flood lights, lanterns, solar lights, and wall lights are all popular outdoor lighting options. They illuminate your outdoor space for summer barbecues, evening soccer matches in the yard, or late-night swims.