Refine By
Living Room Furniture Checklist
The living room is a space to sit back and relax with friends, family, or your favorite TV show. When furnishing your living room, you'll want to make sure there's plenty of seating options and added cozy elements to make the space as inviting as possible. You'll also want to make sure there's storage, lighting, and places to set things like drinks or books. If you're furnishing a new room or upgrading your existing space, make sure you don't miss any of the essentials with this handy living room checklist. Coffee table, decorative pillows, lamps—check!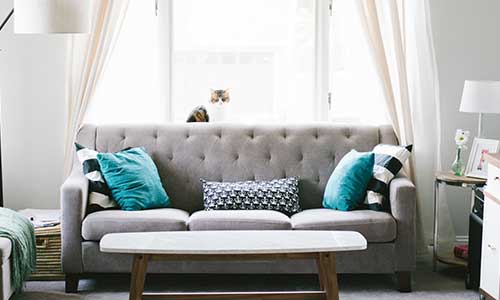 1. A Comfortable Sofa or Loveseat
Seating is one of the most important elements in a living room space. Comfortable seating is necessary for kicking back and relaxing and spending time with guests. Sofas come in a variety of sizes, colors, and patterns to best match your room and personal preference. If you love the sleek look of leather, opt for a leather or faux leather option. If you prefer soft materials but have little ones or pets, a dark color or material that is easy to clean will make spills and accidents less stressful. If your space is too small or if you want an additional sofa, consider a loveseat for an option that is perfect for seating two people.
2. A Spacious Sectional
Sometimes individual chairs get a bit too bulky in one room, which is when sectionals really shine. Sectionals can be as big or small as you desire, and have the capability to seat multiple people—depending on the size of the sectional. These seats come in straight or L-shaped options to best fit the space of your home. Don't forget to see if an automan is included for extra comfort.
3. A Lamp That Fits Your Decor
Lamps illuminate your space and provide wonderful supplemental lighting. This extra light can help individuals read in the evening, create a soft light during movie nights, or add a little extra brightness on rainy or cloudy days. There are multiple styles of lamps to choose from for your room, including floor lamps, table lamps, wall lamps, and desk lamps. They also come in an endless variety of styles and colors, so you can find one that looks great with your other decor.
4. A Coffee Table To Place Conversation Pieces
Coffee tables are wonderful, versatile pieces. They provide a place to set items like drinks or plates of food, they make a large space seem more intimate by filling the middle area of the room with a piece that won't get in the way, and they add to the decor of the room. A natural wood coffee table adds a rustic touch, an all-glass option gives a contemporary feel, and a metal table can add a modern twist by adding new colors or metals to the mix of the room. Coffee tables range in sizes and shapes, so there's an option that looks great in any space. And remember to place an interesting book or item on the table to prompt great conversation among guests. It's also important to place coasters out to set cold drinks on to avoid any damage or water stains.
5. A Recliner To Snooze In
A recliner adds the perfect spot to relax and nap to your room. These chairs don't have to be oversized and an eyesore to be comfy, however. Choose an option like a mid-century recliner for a chair that offers the feet-up, head-back comfort like your grandpa's favorite chair, but in sleek and stylish design that adds to the look of the room. If you don't have space to add a separate recliner but you love the function of them, you may want to consider a sofa or sectional with reclining capabilities. Once you're done relaxing, the footrest slips right back into the chair for discreet storage.
6. A TV Stand To Display Your TV
A TV stand or entertainment center works great for holding and showcasing your TV. The TV can be placed directly on the stand, or if the TV is mounted on the wall the stand can be placed underneath it to fill that empty space and store things like movies, books, or video game consoles.
7. A Futon For Sleeping Extra Guests
When you have more guests spending the night than beds, additional options like a futon can be a lifesaver. A sofa during the day and a bed at night, this multi-use piece can really come in handy when entertaining. Keep in mind that there are many gorgeous, grown-up versions of futons and sleepers so you don't have to relive your college dorm days.
8. Accessories To Accent Your Furniture
Decorative pillows, throw blankets, and candles are all great living room accessories to make your space feel extra inviting. A cozy area rug works especially great in this space as well, as do pieces of hanging wall art or clocks. If you have extra accessories like blankets or books, you may want to consider a console table. These tables are minimalist in design and offer a small table with storage underneath. This works great when placed up against a wall in a room or in the hallway since it doesn't get in the way.