Bedding Sets
Refine By
Find The Bedding Set That's Right For You
At first, bedding sets seem pretty self-explanatory. They're sets that include the things you need to make your bed. However—there are different types of bedding sets. There are comforter sets, bed-in-a-bag sets, and sheet sets—and they all have their own size and material variations. This list breaks down what each set is and what bedding is generally included in them, so you can find the perfect set to make your bed worthy of restful nights full of zzz's and cozy weekend breakfasts in bed.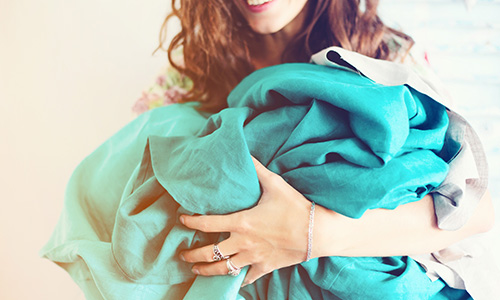 Bed-In-A-Bag Sets: The Complete Package
Bed-in-a-bag options include all the snooze-ready items you need to make a new bed from scratch or completely refresh your existing one. This set includes both a fitted sheet and a flat sheet to make the base of your bed, pillow cases to sleep on, a comforter or duvet cover to cozy up under, and pillow shams to decorate the top of your bed after making it. Sometimes they include more, like a decorative bed skirt, but it all depends on the specific set. Bed-in-a-bag sets generally come in all bed sizes, so make sure to pick the correct size to ensure a proper fit. The most common bed sizes include twin, full, queen, king, and california king.
One of the major benefits of buying a bed-in-a-bag set is that all of the components are designed to complement and look good with each other. This means that you won't have to worry about if those blue sheets are going to look okay with that new comforter you purchased separately. This is important because a bed is often the focal point of a bedroom, so it will automatically draw attention when someone enters the room. Make sure the aesthetic of your new bedding set coordinates with the look and feel of your room, and when choosing a bedding theme or color scheme, remember that patterns and dark colors are a bit better at hiding wear and tear—but no one can deny the dreamy look of a bed covered in dream-worthy white bedding.
Sheet Sets: The "Just The Essentials" Package
If you already have a comforter or duvet that you love, your best option might be a sheet set. These often include a fitted sheet, a flat top sheet, and two pillow cases. These sets can be purchased in a variety of material options. Each material offers its own benefits and has its own maintenance and care requirements. A few of the most commonly found bedding materials include cotton, flannel, linen, polyester, jersey, percale, satin, and bamboo.
So which material is best? It really depends on personal preference. Each material has its own characteristics such as care requirements, warmth, and aesthetic. Some materials are better for heat retention—like flannel—meaning they'll keep you warm and cozy through even the coldest of winter months, while some are light and breezy for those who sleep best in cool conditions—like linen—and others are a temperature middle-ground that is perfect year-round—like cotton.
Most sheets can be washed in the washing machine, but others require special care. Bamboo, satin, and linen are more delicate, while cotton, flannel, and polyester are options that are durable and simple to care for. Make sure to check the manufacturer's care instructions to make sure the requirements fit your lifestyle and washing schedule. Keep in mind that as a general rule, it's recommended that sheets be laundered every week or two.
Comforter Sets: A Package for the Top of Your Bed
Comforter sets include everything you need for the top layer of your bed. This often includes a comforter or duvet cover and pillow shams for your decorative pillows. It also often includes a bed skirt and possibly even a few pillows.
When choosing a comforter set, one of the most important decisions is deciding between a comforter, a bedspread, or a duvet. Comforters are essentially a large blanket filled with some type of warm and cozy filling. These are sewn shut, and designed to be one of the top layers on your bed. A bedspread, then, is a lighter and often bigger-in-size blanket that you can throw on top for added warmth in chilly seasons or for an extra layer of cozy aesthetic. And last but not least, a duvet outfitted with a duvet cover combines both a comforter and a protective layer for it. A duvet is similar in structure to a comforter, with filling like down or down alternative sewn in. It is designed to be covered with a duvet cover that acts sort of like a giant pillowcase. This cover protects the duvet and is easy to remove for cleaning and maintenance.