Refine By
How To Build A Home Gym
Having a home gym filled with workout equipment allows you to work out and exercise in the comfort of your own home. No waiting for a stair stepper to open up, and no wasted time commuting. Plus, with equipment like treadmills, ellipticals, free weights, and yoga essentials, you'll get the same great workout in that you would at the gym. So whether you're exercising to improve your health, to relieve stress, or to get an early start on New Year's Resolutions, this list of fitness equipment will help you create the perfect home gym.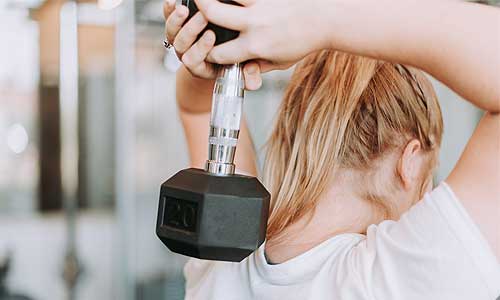 Free Weights For Strength Training
Free weights are used to complete weight-lifting exercises, as well as to add weight and resistance to certain moves—like lunges. Dumbells are common free weights and often range from two to fifty pounds. You can buy dumbbells separately if you know what specific weight you want, or you can buy a set. Dumbbell sets give you the opportunity to start small and increase weight as your muscles strengthen and to use different weights for different exercises.
Kettlebells and weight plates are other popular free weight options. These also come in different weights or in sets so you can purchase exactly what you need for your workout.
Treadmills For Cardio Workouts
Treadmills are ideal for those who don't like running outdoors or for days when the weather is too dreary and cold to step foot out the door. They are also perfect for people who love to start their morning with a run but don't have time to head to a gym to do it. Popular treadmills today feature both adjustable speed and incline to cater to your workout of the day. Treadmills are also great for walking and jogging, and can be used to meet your fitness goals while you catch up on your favorite shows if you have a TV in your gym or if you buy a model with a built-in one.
Step Machines For Lower Body Workouts
Climbing stairs is a great workout for your lower body muscles, and stair steppers allow you to climb without having to find an open staircase. They also allow you to climb in a more controlled way with adjustable resistance and speed settings and a display featuring your workout stats. Add a stair climber to your home gym to work out muscles like your calves, hip flexors, gluteal muscles, and more.
Ellipticals For Low-Impact Cardio
Ellipticals are cardio machines like treadmills, but the motion you perform while using them is lower-impact than running on a treadmill. Which means ellipticals are especially great for those who have sore joints or who want a cardio workout without having to run. Ellipticals also feature moving handrails that provide an upper body workout as well when used during your workout.
Yoga Equipment For Home Practice
Yoga equipment like a yoga mat, a yoga block, and a yoga strap allow you to practice in the comfort of your own home. You can add on to those essentials with accessories like a yoga towel to place over your mat to catch sweat and improve your grip, a water bottle to stay hydrated during your practice, and a hand towel to wipe your hands during especially intense and sweaty flows. You can purchase each piece individually based on what you want or need, or buy sets to complete your home collection all at once.
Exercise Bikes For Stationary Journeying
Stationary bikes are another great low-impact exercise machine option. These bikes allow you to pedal like you would on a bike outside, but without having to actually go outside to journey. Exercise bikes let you get in low cardio workouts as well as work various muscles. These machines have been popular in home gyms for decades—and understandably so.
Barbells For Lifting Weights
If you want to add some strength training equipment into your gym setup a barbell is a small but mighty addition. Add weight plates and a workout bench as well to allow for a great lifting session. As with any weights, take safety precautions when using weights at home and make sure to have a spotter just like you would at the gym.
Small Exercise Equipment For Workout Variation
Additional small pieces of fitness equipment can be wonderful additions to any home gym. A jump rope can bring some fun into your warm up, ab trainers help you work your abdominal muscles, medicine balls add resistance to certain moves, and foam rollers help you roll out muscles after a workout. There is a wonderful variety of additional small equipments to add, so you can diversify your home gym without having to break the bank.