Gym Bags
Refine By
5 Brands With The Best Gym Bags
Gym bags hold the essentials you can't hit the gym without. If you head in to lift before work, you might need a bag with room to pack your office clothes and a blender bottle for your breakfast protein shake. If you're a trendsetter always at the top of your game, you might need a bag that is stylish enough to complete your on-point workout outfit. And if you cringe at the thought of carrying yet another bag with you, a gym backpack might be your new best workout accessory. Popular athletic clothing and footwear companies like Nike and Lululemon all offer gym bags to meet any style and preference. Read on for five top brands offering their own popular lines of gym bags and the essentials you need to pack in them.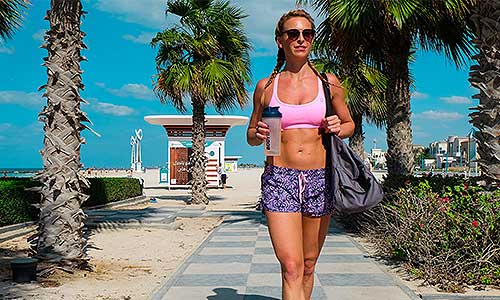 Nike Gym Bags
Nike is known for their branded workout and athleisure attire, but they also offer very popular gym bags among their accessories. From training backpacks to drawstring bags, Nike has a variety of bags to meet every gym-lover's style.
Adidas Gym Bags
One of Nike's biggest competitors, Adidas, is another popular athletic shoe and attire company that offers popular gym and sports bags. Their signature three-stripe logo can be found on their bags—from their rolling duffel bags to their backpacks.
Apart from well-known gym and sports bag styles, Adidas also offers smaller go-to bags like lunch bags and fanny packs. Bringing lunch with you for after that noon gym session and having hands-free bag options make heading to the gym easier than ever. Looking for a new backpack for school? Adidas backpacks don't have to be used just in the gym. Load them with your child's books or tote your computer and daily essentials around with ease.
Lululemon Gym Bags
This "yoga-inspired" athletic brand is popular for its yoga and workout attire and accessories. Lululemon's array of gym backpacks includes options like yoga bags to tote your yoga mat and accessories and backpacks that range from sporty to fashionable. This brand also offers popular options like smaller bags to hold essentials like your phone, wallet, and keys, and tote bags that work both in the gym and at the office. Lululemon is known for athletic wear that is stylish and comfortable, and its bags are no exception.
Under Armour Gym Bags
Whether you're looking for a thermal long sleeve top for your chilly morning runs or a bag to throw all your gym essentials in, Under Armour has you covered. This athletic clothing and accessory brand is popular for their workout attire for both in the gym and adventuring in the great outdoors. With gym bags options like studio bags, duffels in varying sizes, and sackpacks, this company has the bags you need that can stand up to everyday wear and tear.
Puma Gym Bags
Puma is another popular athletic clothing, shoes, and gear brand that offers popular accessories like sports equipment, sunglasses, and gym bags. Their long and slender barrel bags are a popular variation on a duffel, and their pouches and shoulder bags ensure you have your must-haves by your side.
Gym Bag Essentials
Once you find your perfect bag, you get to fill it with your favorite gym bag essentials. Don't forget your water bottle to stay hydrated, your blender bottle to refuel after your workout, layers to add or take off depending on the elements you're working out in, extra shoes designed for your specific activity of choice, and headphones for jamming out while you sweat. Gym bag essentials vary based on an individual's preference, but with the right bag, you'll be able to pack the exact things you need to get the most out of your gym session.