Refine By
7 Jackets To Complete Any Outfit
Prep for chilly morning air during your a.m. run, frigid office temps, or brisk evenings outside with the perfect layered outfit. Whether it's a sporty zip-up, a warm puffer jacket, a comfy pullover, or a stylish blazer, always being prepared for changes in temperatures with a jacket that's ready to throw on in a moments notice can be a lifesaver when it comes to comfort. Plus, with so many options to choose from, there's a style to complete any look—from athletic gear to professional wear. Not sure which kind of jacket is best for you? Here are seven outerwear options that will keep you warm in a stylish.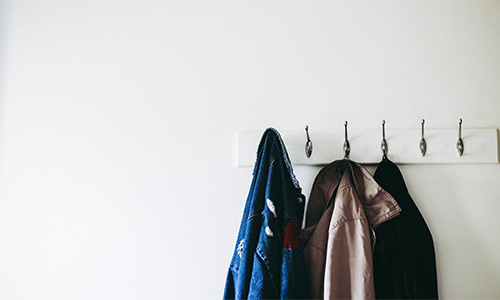 Puffer Jackets
When colder months roll around, you want a jacket that will keep you cozy and warm without too much bulk or weight. A great option? The puffer jacket. Insulated with a light-weight down or synthetic fill, these jackets offer warmth with a flexible, soft fit. Long puffer jackets can keep you extra warm, while short puffer jackets are easy to pack and bring along with you on the go. With proper maintenance and care, these jackets can often last through multiple seasons. Plus—as many are machine washable—they are generally easy to clean. Just be sure to check the manufacturer instructions prior to washing for the first time.
Denim Jackets
The outerwear option that can take you from season to season and work with almost every outfit in your closet is the denim jacket. Like your favorite pair of denim jeans, this versatile jacket comes in a variety of colors, washes, and styles. From white denim to black denim, light wash to distressed, long to cropped, there are no shortage of options to choose from. Throw an oversized denim jacket over a crop top, graphic tee, or mini dress, or add a touch of stylish warmth to your day with a cozy sherpa jean jacket. The options are endless when it comes to dressing up or down this jacket.
Blazers
For a professional jacket that can also be dressed down for a stylish day-off outfit, one can't go wrong with a blazer. Less formal than a suit jacket, this option is perfect for the office, but looks great paired with a classic white t-shirt and jeans, as well. Choose a fitted blazer for professional wear, a boyfriend blazer for a more casual day, or even one in a bold color to add a pop of personality to any day From Target to Express, many stores are making this polished outerwear option both affordable and accessible. If your fit isn't perfect, have your blazer tailored for a clean, beautiful look that compliments your body.
Vests
When the air is feeling a bit chilly during your early morning workout or as the seasons change to winter months, the perfect layering option is a vest. Vests cover your midsection but leave your arms free, warming your core but allowing for maximum movement and layering capabilities. A quilted vest is often filled with down or synthetic down filling for a cozy layer of insulation, while a sweater vest is a soft and stylish addition to outfits that are a bit more dressed up. From athletic to fashion vests, there's an option for any activity and style. Popular outdoor brands like Columbia and The North Face offer great utility and winter vest options perfect for exploring the outdoors in cooler conditions, and stores like J. Crew and Old Navy have vest options perfect for dressing up or wearing with everyday casual looks.
Bomber Jackets
A trendy outerwear option that can easily be dressed up or down is the bomber jacket. This option is vintage and stylish, with unlimited layering potential. Pair it with jeans or legging or even add it to a dress for a chic upgrade. Choose between the classic leather bomber jacket or opt for a sateen option in a fun color for a trendy twist. These jackets originated as flight jackets for pilots, but became a popular staple in fashion when variations like the bomber jacket and the letterman jacket emerged.
Peacoats
An option that has chic European roots and is often made of one of the warmest materials available, peacoats are a fall and winter closet staple. These jackets are often made with wool, and feature their classic button-up front that is well-known and loved in the fashion world. Peacoats work well when paired with professional or dress wear, but also add a stylish touch to a casual jeans and t-shirt or leggings outfit as well. Choose a classic grey or black peacoat for an option that pairs effortlessly with any outfit, or stand out from the crowd with a bold color like mustard or army green.
Rain Jackets
Gone are the days of cringe-worthy rain attire. Both rain jackets and rain boots have become not only something to keep dry during rainy days, but also a fashionable and fun outfit addition. Brands like Columbia and Patagonia offer rain jackets perfect for casual or athletic wear, or choose a rain jacket with a trench coat style for dressier days.