Women's Dresses
Refine By
Types of Dresses For Every Occasion
Dresses are one of the most versatile wardrobe essentials. They are available in a variety of colors, styles, lengths, and materials to best fit your desired look and wardrobe needs and can be so much comfier than wearing tight jeans or a skirt that keeps riding up on your stomach. Dresses can be dressed up with heels and accessories, dressed down with a cardigan or jacket, and can be adapted to be worn throughout every season. Whether you're heading out to cocktail hour or celebrating at a festive holiday party, these are the types of dresses you need based on the type of day you're planning on having.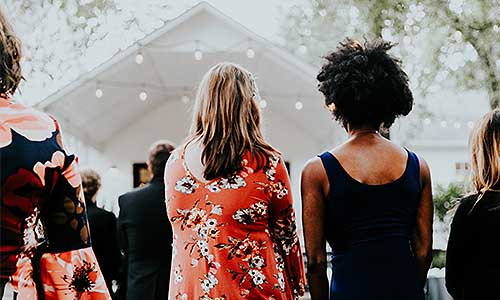 Formal Dresses For Special Occasions
Formal dresses include popular styles like cocktail dresses, ball gowns, and formal wedding guest attire. These elegant dresses are meant for occasions with strict or semi-strict dress codes. If you're headed to a black-tie event, make sure your dress is floor-length and formal enough to meet dress code standards. If your event is a little more relaxed in style, like cocktail hour, have fun with your dress and choose a style and fit that lets your personality shine.
Cocktail Dresses: This semi-formal style of dress is a versatile option that meets a variety of dress codes. With varying lengths ranging from mid-calf to above-the-knee and neckline options including every cut imaginable from off-the-shoulder to high-neck, there truly is a cocktail dress that will fit your style and occasion perfectly. Colors, materials, and add-ons like sequins or glitter are all options to choose from. So whether you're a lace fan or have always wanted to rock a velvet dress, having a cocktail dress you love on hand will make sure you're prepared for date night at that fancy restaurant or the next semi-formal charity gala you're attending.
Formal Gowns: Formal gowns, also known as evening gowns or ball gowns, are the most elegant dress option. They often have a floor-length hem, but can come in a range of styles and fits from a sleek a-line to a princess-worthy full-skirt. Formal gowns should be worn to black-tie events and occasions with a formal dress code.
Wedding Guest Dresses: Wedding attire can range from casual to formal, depending on the style and location of the wedding. The wedding invitation should specify what the dress-code for the event is, but dressing up a bit if you're unsure is always a safe bet. Semi-formal dress options are the most popular for wedding guests, but if the wedding is on a beach or casual in style a sundress can be a good option as well.
Casual Dresses For Relaxing in Style
Dresses are by no means all formal by design. Casual dresses like t-shirt dresses and maxi dresses can be worn to everything from running errands to grabbing lunch with friends and paired with any shoe option from sneakers to heels. The specific type of casual dress you'll want to wear depends on the exact event and what length you desire.
Maxi Dresses: These flowing dresses are the perfect attire for summer wear as their often thin and breathable fabric is the perfect fit for staying comfortable in summer heat. These dresses can be paired with a jean jacket for casual outings or heels and accessories for dressier events. Maxi dresses are generally longer in style with a hemline that is close to floor-length. Throw on a maxi for coffee runs, shopping days, drinks on the beach, or brunch with friends. A formal black or elegant-colored maxi can be worn for dressier occasions like date nights as well.
Summer Dresses: Summer dresses are made to be cool and comfortable. Sun dresses can be paired with floppy sun hats to protect your face from UV rays and look super cute in the process or can be worn for outings like farmers market strolls or watching the kids at the park. They can come in either mini- or midi-lengths, depending on what is more comfortable to you.
T-Shirt Dresses: These casual and comfy dresses are made from the same materials as your favorite go-to t-shirts. They can be either form-fitting or flowy, but are generally a relaxed fit that lays close to your form but doesn't hug your body. This style can be personalized by tying the hemline up a bit in a cute knot, layered with a jacket or chunky necklace, and paired with a pair of your favorite fashion sneakers or flats.
Business Casual Dresses For Rocking Office Attire
Business casual dresses are the perfect option for slaying your work day in style. These dresses are elegant but not stuffy, and leave room for personal style to shine through with different patterns or small, discreet cutouts like along the collar line. Business casual dresses often have a length that sits below the knee for the professional setting. These dresses can be worn with dressy flats or professional heels.