Women's Fashion Sneakers
Refine By
5 Reasons To Buy Fashion Sneakers Now
Sneakers have always been known for their ultimate comfort. But now, they're leading the way in the fashion industry as well. Fashion sneakers aren't just your trusty old pair of running shoes with holes in the mesh. These high-fashion sneaker styles are designed to complete any outfit from dresses to your favorite pair of cropped jeans. These shoes are comfy, they're fun to dress up or down, and there's a pair for every style, occasion, and price point. From designer sneakers to stylish vintage throwbacks, here are five reasons fashion sneakers are a wardrobe essential.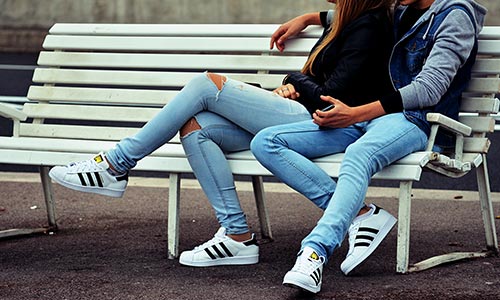 1. Trainers Offer Throwback Style
Vintage trainers are available from all the classic athletic brands, like Nike, Adidas, Reebok, and Puma, but this time around they're being made for more than just court and athletic wear. Vintage trainers are showing up everywhere from the runway to the best streetwear styles, and being paired with outfits from business casual pant suits to trendy track outfits (with a similar nod to the past).
These retro sneakers are versatile and easy to style, as they're a fun and fashionable addition to any outfit. They're also the ultimate choice for comfort. These shoes were originally designed to be worn during workouts—from running to tennis games on the courts. This means they'll feel similar to your favorite athletic pair of sneakers, but offer style that rivals any heel or flat.
2. Slip On Sneakers Have A Classy Twist
Laces are the iconic closure on a pair of go-to sneakers, but slip ons remove that element for a sleek and stylish look. Since fashion sneakers aren't exactly meant to be high-performance athletic shoes, they can offer a loose, comfortable fit. Slip on sneakers should fit you correctly and stay on your foot with ease, but don't have to be laced up or tied to do so. They are typically simple by design and offer a sleek and slim profile.
This style of sneakers can be paired with both dressy and casual outfits. Wear this style with a casual summer dress or add a fun yet professional twist to your favorite pair of cropped office pants with a metallic pair that's sleek yet stylish. Popular shoe brands like J Slides, Sperry, and more offer fun slip on options suitable for all occasions, whether you're strolling by the water or walking through a store.
3. Platform Sneakers Rise To The Occasion
Like your favorite pair of wedges or heels, platform sneakers offer a few inches of added height to your look. Unlike the previous styles, however, platform sneakers offer height that is even from toe to heal, with a stylish chunky sole that's comfortable yet runway-ready. These shoes come in both slip-on and lace-up styles, and are available in any material from leather to suede to canvas.
Platform sneakers are highly stylish, yet easy to style with almost any outfit. Pair them with a short dress for an edgy vibe, add them to jeans and a leather jacket for a classic look, or wear them with a long jumpsuit that is cropped at the ankles for legs that will appear to go on for days. Choose a style and wedge height that matches your style preferences—whether that's edgy and cool or cute and trendy.
4. Canvas Sneakers Are Cute and Comfy
Canvas sneakers have been loved in the fashion industry for decades. From little white lace-up canvas sneakers that look like they were made to be paired with sun dresses to popular boat shoes that offer laid-back lake- or beach-style, canvas sneakers are both casual and comfortable. Vans is an especially popular brand when it comes to canvas sneakers. Their skate shoes have transitioned from the skater world to the fashion industry as they are now being paired with everything from casual to trendy outfits. The most popular sole materials for canvas shoes are either rubber or rope, for a simple aesthetic that matches the minimalist canvas feel. These particular sneakers are a bit more difficult to dress up, as they are stylish but casual, but they can be paired with semi-dressy outfit options like dresses.
5. High Top Sneakers Are Surprisingly Versatile
Like canvas shoes, high-top sneakers aren't just for skaters. The fashion industry has proven these shoes can go with more outfit options than you could imagine. From shiny metallic pairs to suede slip on styles, high top sneakers can now be paired with every outfit from skinny jeans to skirts. Popular brands like Canvas offer classic high-top styles, while designers like Gucci are adding their own twist to the popular look. This style rises above your ankle, and comes in a variety of styles and materials—some easier to dress up than others. A trendy leather pair of high-top sneakers, for example, can go with almost anything, while a pair of canvas high-top sneakers has a bit more limited pairing potential.