Women's Boots
Refine By
A Boot For Every Outfit
From knee-highs to ankle boots, these comfortable and stylish shoes come in a variety of options to pair with any outfit. Varying colors, materials, styles, and heel heights mean that no matter if it's a casual jeans day or a dressy evening, you can find a pair that looks great. Plus there are options for every season and every type of weather. Need a pair asap? Here are the popular boot styles you should consider.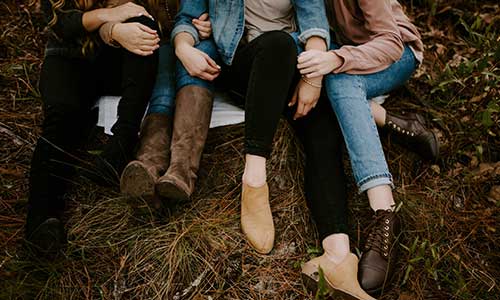 Low Heeled Ankle Boots
Ankle boots, also known as booties, are a favorite shoe option for everyday wear. These boots come in a variety of styles and stand up to the weather in any month. Waterproof options are great for cooler months filled with rain showers or snow flurries, peep-toe styles are great for warmer weather as a gorgeous sandal rival, and lightweight suede or leather options are great for transitioning through any season and any event. The low heel allows for comfortable walking, which means these are a commuter or traveler's essential. Their low-profile design also pairs easily with everything from cropped pants to dresses and can be worn with dressy or casual tops or jackets.
Chelsea Boots: Chelsea boots are a slip on boot that can be worn both in the office and out with friends. These ankle boots are often leather or suede and are known for their sleek, stylish design. Simple in nature, the boots feature a low heel and an ankle panel that is distinctive to this style. Pair these boots with anything from jeans to a work suit. Often featuring a solid, neutral color that pairs effortlessly with any outfit, these comfortable boots are also a popular style for rain boots as well.
Chukka Boots: Chukka boots are casual, suede boots known for their simple design and minimal lace-up feature. These boots work well with jeans for a relaxed day of exploring your city or enjoying lunch with friends. Desert shoes by nature, these boots are great for warmer months but have the closed shoe feel that's perfect for cooler weather as well.
Block Heel Bootie: Low block heel boots are the perfect versatile shoe. They pair well with cropped or rolled pants, skirts, and dresses, and are the perfect neutral base to build an outfit on. They are often classic and simple, with a neutral color like black or olive, but can have unique features like a fun asymmetrical zipper, a tassel, or laces for added character.
High Heeled Ankle Boots
Short boots are generally pretty casual, but not always. A heeled ankle boot can rival a pair of high heels any day.
Sock Boots: Sock boots are made with a fabric-like material that is form-fitting like a sock. These boots can be low ankle boots or tall like knee- or thigh-high options. Swap out your heels with a pair of these boots for a fun change of pace.
Stiletto Boots: With the signature skinny heel of stiletto pumps, stiletto boots have the same elegant and glam look but in boot form. These shoes pair well with both cocktail attire or jeans, and are available in taller boot styles as well.
Tall Boots
Tall boots rise above the ankle and are great for cooler months. These boots come in casual leather styles or elegant and sexy options.
Knee-High Boots: In cooler months, nothing pairs better with a short dress, skirt, or skinny jeans quite like a gorgeous pair of knee-high boots. This eye-catching style can be worn casual by pairing it with a cozy sweatshirt or vest outfit, or dressy by pairing it with a sleek little black dress (perfect for a holiday party). These tall boots come in styles that are extremely form-fitting like a pair of tall socks, as well as styles that have a little room to go over thicker pant materials like denim or to wear warm and comfortable boot socks underneath. For example, leather options like tall riding boots have more structure and fit a bit looser on the leg.
Mid Calf Boots: Boots that rise above the ankle, but stay below the knee, are known as mid calf boots. Popular styles of this boot height include lace-up mid calf boots, mid calf sock boots, and slouchy boots. This hight works well over skinny jeans or cuffed pants.