Women's Booties
Refine By
The 7 Ankle Booties Your Closet Needs
A go-to pair of booties is undeniably a wardrobe essential. These versatile shoes can take you from spring to fall and back again go with everything in your closet. Skinny jeans and a sweater create the perfect fall outfit when paired with a classic stacked bootie. And a slinky little black dress with a trendy pair of sock booties is the ultimate duo for evening cocktails or date night. And if you've truly discovered how versatile these shoes are, you might even have multiple styles in your closet waiting to be worn for some serious shoe envy.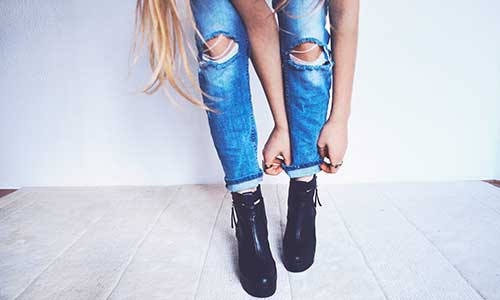 Stacked Booties
No wardrobe is complete without a classic pair of stacked heel ankle booties. Whether your go-to is a pair of black, brown, or white leather booties, a good pair will be your fashion staple for years to come. They can be dressed up for work, dressed down for a Saturday full of errands, or pair with your favorite cute and casual outfit you can reach for no matter what the day may bring.
Wedge Booties
A chic pair of wedge ankle booties combines style with comfort. Unlike those stiletto heels you can't wait to take off after an hour of wearing, these booties can take you from your morning commute to evening dinner with ease. Feeling edgy? Grab a pair of lace up wedge booties. Want to stand taller than ever? Throw on some stylish platform booties. With brands like Toms and Sorel leading the way, designers and brands are loving these year-round staples that might become your new favorite shoes.
Open Toe Booties
Peep toe ankle booties offer the versatility of a good boot with a flirty and fun twist. The peep toe design can be paired with additional cutouts for a fun spring or summer essential, or let your toes shine on their own (plus, it's the perfect excuse to treat yourself to a little self-care pedicure). These booties are available in suede, leather, or any other material you love, and look great in solid colors or fun prints and patterns. Pair them with jeans for a cute and casual outfit, an adorable dress, or black leather leggings for eye-catching style.
Rain Booties
Spring showers don';t have to rain on your parade. A cute pair of rain booties will have you ready to puddle to jump in style. No more fretting over water damage to your shoes—these waterproof beauties will keep your feet dry and look good from rain to shine. Choose a classic pair of black rain booties for a versatile pair that will effortlessly pair with any outfit, or pick a fun pattern or a bold statement color for booties that stand out from the crowd. Pair with your favorite rain jacket and umbrella for adorable style that's as functional as it is fun.
Sock Booties
Sock booties are trendier than ever, and they're exactly what you'd expect. These snug boots seamlessly blend calf-high socks with booties and hug your feet and ankles for a fit that looks like it was made just for you. These booties can compliment a slinky little black dress or be paired with everything from jeans to sweats to take any outfit to the next level. They're versatile, comfortable, and look great with practically anything.
Low Heel Booties
Flat or low heel ankle booties are the stylish workhorses of your shoe collection. Great choices for those days you're on your feet constantly, a correctly fitting and high quality pair of these booties will allow you do stand or walk in bliss. Low heel booties make great travel companions—looking stylish and feeling comfortable during walks through new cities or sitting down to dinner.
High Heel Booties
We can't deny it—a solid heel can elevate any look with added sophistication and style. High heeled ankle booties can dress up any outfit and be customized to fit any personal fashion style. From sock booties to peep toe booties, a pair with a high heel makes an extra bold statement. And while these heeled booties can be worn to compliment dressy outfits, the high heel doesn't necessarily mean it can't be dressed down. Try a fun print like cheetah or polka dot for a casual yet classy shoe option.