Refine By
8 Popular Plus Size Clothing Brands
Up until recently, the selection of clothing for women sizes 14 and above in the fashion industry had been leaving much to be desired. But as body inclusivity has become increasingly important and celebrated, brands have started creating fabulous lines catered toward curvy girls - and the long awaited movement has boomed in popularity. From dresses to denim, these eight popular clothing brands are leading the way in the plus size fashion world known for offering fashionable, trendy clothing to women of all sizes.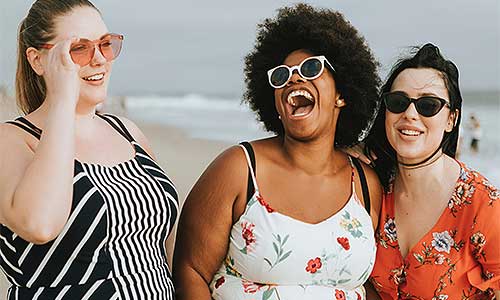 ASOS Curve
ASOS is a popular British online fashion site that offers trendy clothes for men and women of all sizes. Its well-known Asos Curve line offers stylish clothing and accessories, including everything from jeans to jackets. This line was launched in 2010 and has become a leader in the plus size fashion industry. ASOS Curve has all that a fashionista could want, including budget-friendly options that won't break the bank.
Calvin Klein
This well-known designer brand has been a staple in the fashion industry since its founding in 1968 by American fashion designer Calvin Klein. This popular brand now offers a gorgeous line of designer plus size clothing that features both casual and professional attire. Including wool and cashmere sweaters alongside designer tops and bottoms, Calvin Klein is proving that designer clothes are meant for every body.
Torrid
Originally owned by Hot Topic, Torrid is a women's clothing brand that offers fashionable plus size clothing in sizes 10 to 30. Don't miss their intimates collection, as well as their fangirl line featuring clothing with popular brands like Mickey Mouse, Marvel Comics, and NFL attire. This fashion brand offers much more as well, with trendy options for both clothing and accessories. Torrid was launched in 2001 and states a corporate social responsibility to providing clothing that is produced with a socially responsible manufacturing process.
Forever 21
Forever 21 is a fashion brand that was founded in 1984. This budget-friendly clothing line is perfect for young adults who love fashion and adding the latest trends to their closet, without having to pay a fortune. Forever 21's plus + curve line offers the latest seasonal and on-trend finds at prices your wallet will love.
Avenue
Avenue is a womens fashion brand that specializes in clothing sizes 14 and above. Founded in 2012, this brand has various brick-and-mortar retail store locations as well as its popular online selection. Avenue offers trendy clothing and could complete your closet - from sleepwear to athleisure to the latest trends in tops and bottoms.
Eloquii
Founded in 2011 and relaunched in 2014, Eloquii is an online brand that was recently acquired by Walmart Corporation. With sizes ranging from 14 to 28, Eloquii has the fashion staples you're looking for, including dresses and tops. They are known for their business casual work attire, perfect for the girls who love fashionable, professional attire. Your office days might just become a little more fabulous with clothing from this brand.
City Chic
From dresses to outerware to swim essentials, City Chic is a womens fashion brand that celebrates curves with its well-loved clothing for sizes 14 and above. It began as a boutique in Sydney in 1999 and has grown to become a leader in the plus size fashion world. City Chic offers standalone clothing items and also has collections with pieces curated to go beautifully together.
Woman Within
Woman Within offers comfy and casual attire in sizes 12-44 and has clothing for every season. With swimwear, coats, and jackets, this brand proves that being comfortable doesn't mean you can't be fashionable as well. No matter if you're shopping for shoes or trendy tops, Woman Within has the closet essentials that just might become your favorite go-to items.