Women's Handbags & Wallets
Refine By
7 Handbags For Any Lifestyle
Different lifestyles require different accessories, and handbags are no exception. With styles ranging from shoulder bags to clutches, these trusty companions carry your essentials and are the finishing touch to any outfit. Some are for fashion, some are for function, and some are a gorgeous blend of both. Unsure of which handbag is right for you? Check out this list of seven bag options and find out which is best based on your lifestyle.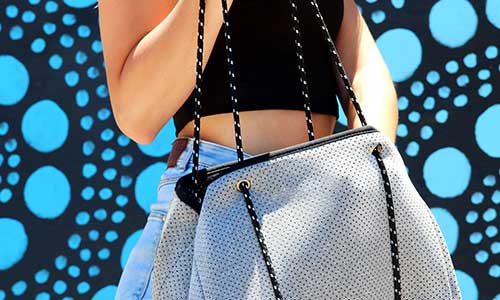 Backpacks For The Girl On The Go
Fashion backpacks are a great no-hands handbag option for girls who don't want a bag getting in their way. Throw it over your shoulders and leave both your hands free for biking or carrying as many bags as you can home from the grocery store. If you only want to carry your essentials, opt for a mini backpack. Or, if you'll want to occasionally throw in your laptop, work essentials, or a spare outfit to throw on after the gym, a leather backpack or designer option, like a coach backpack, may be your perfect fit.
Shoulder Bags For The Style Icon
The ever-popular shoulder bag will always hold a special place in the handbag world. The streamlined design of this classic option goes with any outfit and can be found in various sizes, materials, and brands. This handbag has proven to be trend resistant throughout the years, remaining popular with its classic, simple beauty. Plus, from Fossil to Target, designers and fashion companies have made this handbag style one that can fit any style and any budget.
Crossbody Bags For The Girl With Coffee Always In Hand
Admit it, sometimes even two hands doesn't feel like enough when you've got your coffee, keys, and phone in hand. Crossbody bags drape securely across your body and are easy to reach when you need to grab your lipstick for a quick touch up or your wallet to cover lunch. And with designers like Gucci and Michael Kors creating chic crossbody bags, you'll have plenty of great options to choose from. Go for a vegan leather crossbody purse, a fringe crossbody bag, or a versatile black or brown option that you can throw on with anything.
Tote Bags For The Girl Who's Prepared For Anything
A large and roomy tote bag carries an impressive amount of things—and is a lifesaver on days when you need to carry all your essentials with you. Throw in a few snacks for the day, a cardigan in case you get cold, your laptop and its charger—the possibilities are endless. If you know you're going to be regularly carrying a lot of weight in your bag, it might be a good idea to invest in a high-quality one that will be able to stand up to the regular strain. Leather tote bags are a good high-quality option, as well as cute canvas tote bags. Pro tip: use a keyfinder or other handbag accessory to make sure your keys and other essentials are always in reach. The struggle of digging into a seemingly endless tote bag for a lossed chapstick or keychain is all too real.
Clutches For The Girl Who Needs Only The Essentials
Clutches are small, hand-held purses that fit the absolute essentials. These handbags are especially great for a night out or for pairing with elegant attire for dressy occasions. They add subtle character to your outfit—whether you're drawing eyes in a floor-length gown or commanding attention in a classy pantsuit—and are often designed without a strap so they won't distract from your look. Some wallets are even designed to be carried on their own as a fashion accessory.
Hobo Bags For The Girl Who's Boho-Chic
Large, slouchy, and loved by many, the hobo bag is the perfect option for people who like their handbags a little more unstructured. Leather handbags, as well as faux leather, are particularly popular, but the hobo design can be applied to other styles of handbags as well. Crossbody hobo bags, hobo clutches, and hobo shoulder bags all offer the laid-back, stylish feel. These bags go best with casual outfits, but can be used to dress down a dressy outfit too.
Fanny Packs For The Trendsetter
A trendy, hands-free option that is back and better than ever is the fanny pack. These well-loved packs were especially popular in the 90s, before making a huge and enthusiastically-met recent comeback. Leather fanny packs are a classy option that can be worn everywhere from morning strolls at the farmers market to date night with your significant other, while brightly colored nylon packs offer a fun blast from the past for events like concerts and festivals. Some fanny packs even include portable speakers for extra fun.