Luggage
Refine By
The Best Luggage For Every Traveler
From business trips to much-needed vacations, life on the go means packing and carrying both your wardrobe and essentials—which is no easy feat. But the right luggage can make the world of a difference when it comes to reaching those packing goals (because who doesn't want to master the art of being prepared for anything travel throws at you without seriously overpacking?). Here are popular must-have luggage styles that will set you up for jet-setting success. From carry-on bags for the minimalist packer to oversized bags for the traveler on the long haul, these are the luggage options you need to know about.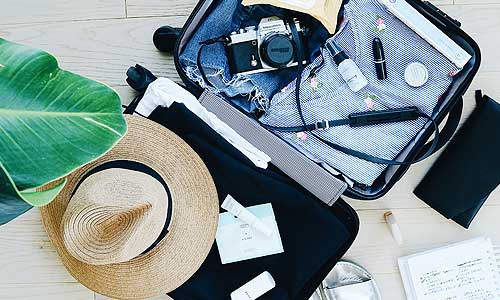 Carry-On Luggage For The Frequent Flyer
Packing light has multiple benefits—you can skip checking in your luggage at the airport, you don't have to wait at baggage claim or deal with lost bags, and once you land you're ready to start exploring without large bags weighing you down. But fitting everything into one or two carry-ons will only work if you have the right bags for you. Both of these options generally fit airline size restrictions, but keep in mind that exact measurements and bag allowances will vary for individual airlines.
Travel Backpack: A travel backpack is perfect for the explorer that likes to keep their essentials with them and easily accessible. The best travel backpacks are easy to load with stuff, but easy to dig into to find your things at the same time. Multiple compartments and handy zippers often help achieve this goal. Opt for a daypack or small travel backpack for short adventures, or a large hiking backpack for lengthy excursions—or when you can't bear to leave those extra outfit options behind.
Carry-On Luggage: Carry-on luggage bags are often rectangular by design and completely open inside for unlimited packing potential. They're equipped with wheels on the outside for easy maneuvering and come in hard or soft outer materials. Hard shell options keep your belongings protected through stacking, rough handling, or bouts of bad weather, and soft-side options are perfect for squishing down to squeeze into even the tiniest of overhead bins. Maximize packing efficiency in a hard- or soft-shell carry-on by using packing cubes to separate and effectively compartmentalize your belongings.
Weekender Bags For The Weekend Warrior
Sometimes one weekend is all you need for a quick trip or get away. Weekender bags provide just enough space to hold travel essentials for 2-3 days, and are designed to be stylish and easy to carry. Choose a leather bag for a professional and versatile option, or a fun cloth bag that's flexible and easy to stuff with as much clothes and belongings as you need. With top designers and brands like Vera Bradley and Victoria Secret offering their own unique weekender bags, it's easy to find one you'll love to pack and carry.
Large Luggage For The Well-Prepared Traveler
Whether you're embarking on lengthy domestic or international travel or simply need more space for packing extra essentials, large and extra large suitcases offer the additional space perfect for fitting in all the travel essentials on your packing checklist. Extra shoes? Check. Elegant clothes for nice restaurants and events? Check. Computer, phone charger, and ebook? Also check. That extra room is also perfect if you're packing for your child as well.
Like carry-on options, larger luggage bags are often available in hard- or soft-shell materials to meet your personal preference and travel conditions. To increase mobility when traveling with a large suitcase, opt for a rolling luggage bag to save yourself from the struggle of carrying a bag that's too heavy to easily tote around. And if you're flying with these checked bags, don't forget to add a fun luggage tag to easily identify your bag at baggage claim and to help track down lost luggage easier.
Luggage Sets For The Traveler Who Wants Options
Some trips are quick and only require a few outfits, and others are lengthy and require multiple outfits, layers, or accessories. In order to make sure you're prepared for any type of trip, go with a luggage set for a cohesive collection of bags that vary in size. Complete with a carry-on bag and a large suitcase at the very least, these handy sets give you the freedom to pack as little or as much as you desire. Most popular luggage brands, like Away and Samsonite, offer complete luggage sets varying in size and quantity. Pick one you love, since quality sets can often last through years of travel depending on usage and proper care.
Animal Carriers For The Pet Lover
From support animals to family pets, sometimes fluffy companions make the trip as well. If your animal is going to travel with you, an animal carrier, along with a few other key doggie travel essentials, might help make the trip go as smooth and enjoyable as possible—for both of you. These carriers are designed to allow your little one to breathe and sit comfortably during your journey.