Refine By
How To Find The Best Face Moisturizer For You
Face moisturizers have a few very important job. They hydrate and moisturizes the skin on your face, but can also provide other benefits as well. Some moisturizers hydrate while reducing extra oil—perfect for oily skin. Other moisturizers include SPF to block harmful UV rays while you're out in the sun. And some offer ultra hydrating properties to help soothe and hydrate dry skin. So whether you're looking for a natural face moisturizer with ingredients you love or a drugstore face moisturizer to help stay in budget, these are the best face moisturizers for you based on your skin needs.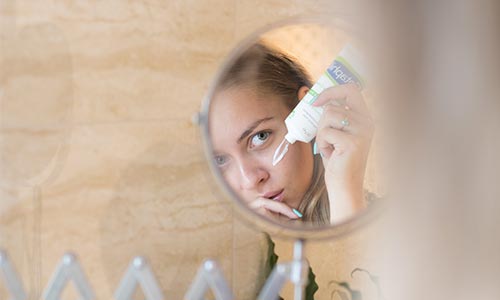 Best Face Moisturizer For Oily Skin
Many people make the common mistake of thinking oily skin shouldn't be moisturized. But it definitely should. Oily skin needs moisture like any other skin type—from combination to dry—to allow for natural oil production and to keep the skin healthy and protected from the elements. The key is to finding a moisturizer that doesn't add extra shine is to use one designed for your skin type. Non-greasy and non-oily face moisturizers can hydrate without leaving you constantly touching up with finishing powder. They can actually help your skin regulate its oil production, as production can increase to combat dry conditions.
The best face moisturizer for oily skin is one that will hydrate yet help control oil production at the same time. Look for moisturizers that are labeled specifically for oily skin to help find the perfect match.
Best Drugstore Face Moisturizer
Face moisturizers don't have to break the bank. Popular drugstore brands like Aveeno and Neutrogena have proven that budget-friendly options can work just as great as high-end brands when it comes to skincare. But that being said, it's important to remember that everyone's skin is different, and a brand that works for some may not work for others.
Skincare may take some trial and error to find one that you love, but when you do, the hunt will be more than worth it. The best drugstore face moisturizers offer benefits that rival high-end brands with ingredients that your skin will love and added benefits like anti-aging properties and SPF protection. Do some research before trying a new brand to make sure the formula is a fit for you.
Best Face Moisturizer for Dry Skin
Face moisturizer is an everyday hero for treating dry skin. Common in colder months, dry skin can be uncomfortable and downright frustrating to deal with. It can make makeup application hard and leave you with itchy or painful sensations. The best face moisturizer for dry skin is one that will hydrate and help treat dry-skin in the long term.
Ultra hydrating face moisturizers can come in a variety of options—from creams to balms to salves. Finding one that is made for your skin type will help soothe the dryness without over hydrating or making you break out. If you're acne-prone or have oily skin, make sure to look for a formula that will help, not hurt, your skin type.
Best Natural Face Moisturizer
Natural face moisturizers are popular for their ingredients that aren't harmful to either your skin or the environment. The term "natural", however, can mean a variety of different things in the skincare world. Some natural products use only organic ingredients, while others have no added chemicals or preservatives. To find the best natural face moisturizer for you, take some time to look into your different options. If finding an option that is non-toxic and only has ingredients that are found in nature is important to you, look for one that has ingredients that cater to that. And if your priority is one that is sustainably made, do your research to find a company that has a manufacturing process you support. The term "natural" is an umbrella term for a variety of different things in the skincare world, but that means with a little extra time you can find one that truly fits what you want in a moisturizer.
Face Moisturizer for Men
Face moisturizers aren't just for women. Men's skin needs to be properly hydrated and moisturized as well. Brands like Kiehl's and Neutrogena offer facial moisturizer formulas designed for men, but almost any brand will help nourish men's skin, as well as women's, as long as it's catered toward their specific skin type.
Best Face Moisturizer with SPF
Face moisturizers are made to hydrate, but they also help protect your skin from the harsh exposure of everyday life. One element that people face almost everyday without even thinking about it is the sun. The sun's rays do have benefits, like vitamin D, but its UV rays can be harmful and damaging to skin. Protecting with a proper SPF will help reduce damage and help keep your skin healthy. The best face moisturizer with SPF is one that has enough protection to make a difference, while still maintaining the light and non-greasy coverage you want from a face moisturizer. Many top brands offer excellent SPF moisturizers catered toward different skin types. And remember, these moisturizers benefit your skin year round, even in the winter when SPF isn't normally a go-to item.