Sets & Palettes
Shop By
Type

sale

price

brand

store
Refine By
Makeup Sets and Palettes 101
By blending colors and using different types of liquids and powders when you apply your makeup, you create a mini work of art on your skin—and it's no easy feat. Makeup can be used to cover up blemishes or perceived imperfections, but it's also used to highlight and complement different features on the face. By applying eyeshadow shades of purple, brown eyes pop. And by applying bronzer and highlighter, cheekbones draw all eyes. But deciding what colors go together can be tricky, and purchasing each piece of makeup separately can get expensive. This is where sets and palettes come in. A makeup set includes various different colors, shades, or makeup types and they are often bundled with different makeup types that work together. So whether you're a beginner learning what colors to use together or a pro looking for multiple different makeup items in one set, these are the different types of makeup palettes to check out.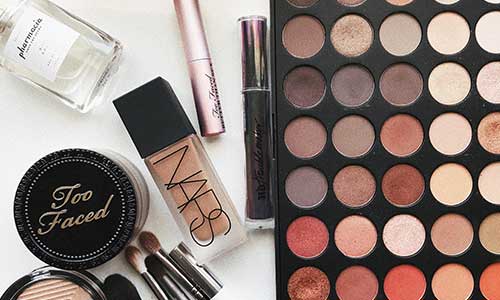 Eyeshadow Palettes
Eyeshadow palettes include various different colors or shades of eyeshadow. They can be as small as two colors that complement each other, or as extravagant as a 50 piece set with all the colors you could dream of. Sometimes these palettes are even intended to be used to create a specific makeup look, like a smokey eye. These will typically have all the colors you need and have instructions on where and how to apply each color, as well.
With proper care and regular makeup brush cleaning, eyeshadow palettes can last over a year without expiring, so they are often an investment that will last.
Contouring Palettes
Contouring is a process that involves strategically applying products a few shades darker than your skin tone, such as a matte liquid or powder, along with highlighters to create the illusion of shadows on your face. This shapes your face, gives definition, and can highlight certain facial features, like your cheekbones. One of the easiest ways to find products that work together to create a contoured look is by choosing a contouring set or palette. These include bronzers and highlighters that were professionally paired together for the look that you want. If you're not sure what colors will work with your skin tone, beauty experts at makeup stores can give you color examples to use as references as you decide which kit is best for you.
Blush Palettes
Applying blush gives you gorgeous rosy cheeks and adds brightness and color to your face. Most popular makeup brands, like NARS, Mac, and Morphe offer blush palettes with a few different shades of blush to blend or use on their own to create your perfect flushed look. Some blush palettes even include a highlighter or bronzer option as well. What makes these palettes especially great is the blending potential. It can be hard to find one blush color that complements your skin tone and undertones perfectly, but with a few different colors to use at once you can create a custom look no matter what season you're in or what event you're going to.
Lip Kits
The right lip can transform any look, whether it's a bold red, a pretty natural pink, or a gorgeous orange. Creating that lip look often requires a few different things, however. You'll need a lip liner to outline your lips and prevent bleeding, a primer to condition and allow your color to stay on longer, and the lipstick or lip gloss of your choosing—sometimes even two to blend together. Instead of buying all of these components separately, a lip kit includes some or all of them, depending on which kit you choose.
Full Face Makeup Palettes
Perfect for traveling or for beginners building their makeup collection, full face palettes include the essentials for your eyes, face, and lips. They often don't include as many options or varying shades as individual kits, but have a good variety of the basics. These kits vary in terms of what is included, allowing you to pick one that best fits your needs. If you want to focus more on your eyes, opt for one with more eyeshadow options and less face options, or vice versa.