Makeup Brushes & Applicators
Shop By
Type

Purpose

sale

price

brand

store
Refine By
Makeup Brushes 101
Brushes are a necessary tool to properly apply makeup and create the look you want. Just like there are different types of makeup for certain parts of your face, there are different brushes designed to work with certain products. Starting with the basics like an eyeshadow brush and blush brush that you'll reach for every day and expanding to more specialized options like lip and contouring brushes, this is a breakdown of the ten must-have brushes you need in your makeup kit and what each of them does.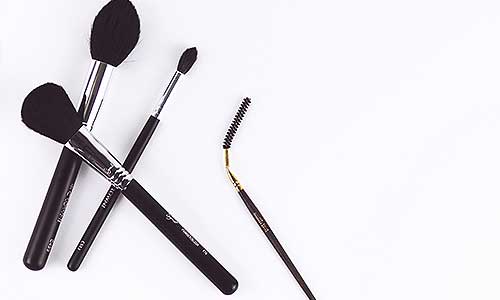 The Go-To Brushes
Some brushes are key to makeup application. They can be used for a variety of purposes if you're in a pinch and will allow you to create a gorgeous makeup base for you to build upon with more specialty brushes later. They are the ones you'll use the most, so if you only have a few brushes in your makeup collection, these should be it.
Foundation Brush
A foundation brush is used for applying and blending liquid foundation. Use this brush to smooth and spread your foundation using small strokes to avoid streaking. Foundation brushes can be angled or circular and come in a variety of sizes from regular size to compact for travel. Popular makeup brands like Morphe and Sephora offer their own signature foundation brushes.
Blush Brush
The right application of blush can give a beautiful, rosy glow to your face. Blush brushes are the best tool to use to apply blush to the apples of your cheeks, blending up and back toward your hairline.
Concealer Brush
When those annoying blemishes pop up or dark circles reveal a late night, concealer is here to save the day. A concealer brush helps apply concealer to the exact spot you need, blending while still maintaining coverage of the spot. This brush is rounded to allow you to access hard-to-reach places like around your nose.
Eyeshadow Brush
Eyeshadow adds color to your face and brings attention to your gorgeous eyes. A good eyeshadow brush will pat on dry eyeshadow or blend in cream shadow like a pro. A shadow brush is meant to be used directly on the lid, and from there you can add to your collection with brushes like crease brushes for blending darker colors into your crease and an eyeliner brush to line your eyelids after your shadow is complete.
Powder Brush
Powder brushes are large and soft, ideal for applying finishing powder to your face to set your makeup. These brushes can also be used to apply powder and mineral foundations if liquid isn't your thing, although they do generally apply very light coverage.
The Helpful Makeup Brush Additions
Aside from the basics, there are various other makeup brushes that can help you create more elaborate looks. These items may be go-to brushes for some people, however, so make sure to think about your routine as you read on.
Stippling Brush
Stippling brushes come in especially handy when you are applying cream or liquid makeups. They have sturdy fibers near the base that hold onto liquids, and more delicate fibers at the tip that help even out application. Whether you're adding a cream blush or a liquid highlighter, this brush lets you blend using light tapping motions that can give a gorgeous, airbrushed look.
Brow Brush
Brow brushes can whip unruly brows into shape. Brow brushes are generally very small so they're easy to throw in your makeup bag or purse for touch-ups throughout the day. Many people use brow brushes before applying gels to hold the hairs in place or adding color to fill them out. Brow brushes can also be used with liquid brow color to coat your natural brows and give the illusion of thicker brows.
Lipstick Brush
Lipsticks can be applied directly from the tube or stick, or they can be applied with a lipstick brush for a more exact application. These brushes allow you to create a more even application and can be helpful when applying color in hard-to-reach places, like the corners of your mouth or your cupid's bow.
Contouring Brush
Contouring brushes are angled to correctly apply bronzer and highlighter during the contouring process. Contouring helps shape your face, but requires correct application of color in order to draw attention to the correct areas on your face.
Brush Maintenance Is Key
Since makeup brushes are regularly used to apply product to your face, they are subject to product and oil buildup - as well as germs. Clean and care for your brushes regularly to keep them in good condition and to ensure the best possible application during your makeup routine. Brush cleansers help sanitize and effectively remove product from your brushes, but a mild soap and warm water can be used in a pinch as well.