Hair Dryers
Refine By
5 Types of Hair Dryers For the Perfect Blowout
Hair dryers quickly dry your hair after a wash to prep it for additional styling or to get you out the door with flowing locks instead of dripping strands. The right hair dryer can offer some pretty great benefits—from minimizing heat damage to reducing frizz. But deciding which hair dryer to invest in can be tricky because there are so many available that each offer different benefits. Whether your goal is to cut down on frizz or reduce your drying time as much as possible—there's a hair dryer out there that will help you create a gorgeous blown-out style that's ready to wear on its own or complete with favorite hair care tools. Here's five types of blow dryers to consider based on your drying needs.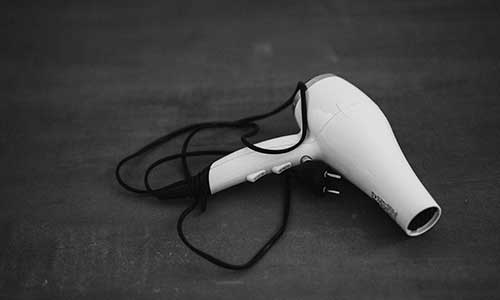 Best Hair Dryers For Frizzy Hair
The ultimate goal when blow drying frizzy hair is to find a blow dryer that will leave your hair smooth and frizz-free. A great option for tackling this sometimes seemingly impossible task is an ionic hair dryer. These hair dryers emit negative ions that can help reduce drying time by separating the water molecules on your hair. They also cut down on frizz during the process. Many top hair dryer brands offer ionic hair dryers, like Dyson, Harry Josh, and Rusk. Dryers that emit negative ions do generally dry faster, but should still be used with a heat protectant to reduce heat damage to the hair while drying or styling.
Best Hair Dryers For Minimal Heat Damage
Two options for reducing heat damage are to use either ceramic or porcelain hair dryers. One major benefit of these hair dryers is their infrared heat, which can be less damaging to your hair. Ceramic and porcelain also heat up evenly inside your dryer, for a consistent heat that can help reduce frizz as well. Using a heat protector and drying on lower heat setting will help reduce damage even further, as will paying attention to when your hair is dry to avoid applying heat longer than necessary. The key to getting a blow dryer that will damage your hair the least is finding one that has lower temperature settings so you're not applying consistent, hot heat the entire time and investing in a quality dryer.
Best Hair Dryers To Reduce Drying Time
If you have thick hair, or if you're just downright in a hurry, you probably know the struggle of standing for what seems like hours trying to get your hair to dry. Two options for speeding up your drying time incluse using titanium or tourmaline hair dryers. Titanium heats up evenly, like ceramic, allowing for a significant time cut when drying. This type of dryer typically produces very hot air, though, so be careful to take other measures to avoid heat damage. Tourmaline hair dryers combine the infrared head of ceramic dryers with the negative ions of ionic hair dryers. This combo can create a dryer that minimizes damage as well as speeds up drying time. These dryers can be a bit more expensive due to the higher price of the tourmaline mineral used to create them.
Best Hair Dryers For Travel
A smaller size doesn't have to mean less power when it comes to hair dryers. Many top brands are creating small but mighty travel hair dryers that offer incredible drying time in a compact size. These dryers are perfect to take on the go as they won't take over your carry on space and won't make you choose between packing it or your new favorite pair of shoes. If you're traveling internationally, make sure to pay attention to the wattage of the dryer, as high wattages can blow converters and possibly ruin the dryer at the same time.
Best Hair Dryer Attachments
On their own, hair dryers generally only do one thing—dry your hair with heated air, however, attachments can be added to them to specialize the drying process and give more styling opportunities. A hair dryer diffuser spreads out the flow of air for a wider and less-direct flow. This is perfect for curly hair, as the diffused hair encourages curls to dry more naturally and with less resistance. A concentrated nozzle, on the other hand, helps direct the flow more precisely and directly to help straighten during the drying process. A comb attachment is another popular choice to help reduce drying time and smooth hair as it combs and dries.