How To Pack The Ultimate On-The-Go Kit, Three Ways

+

Never underestimate a well-packed bag. Brought to you in partnership with Protein One.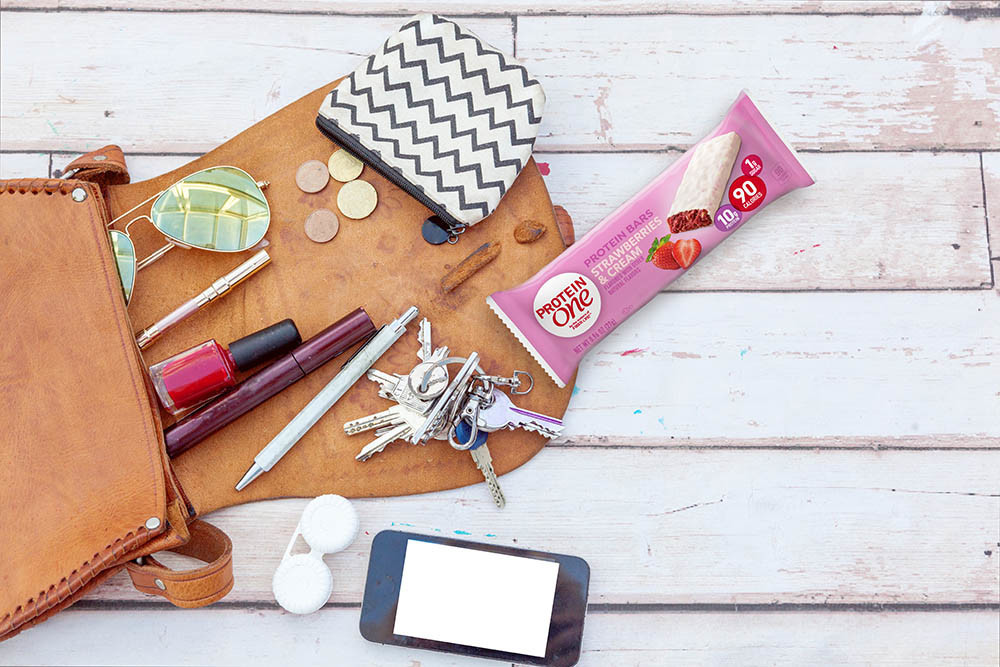 Between your career, your kids, and trying to get in some self care, your schedule can get a little dizzying. Because of that, we know that your bag (and more importantly, what you pack in it) is the lifeblood that gets you through those nonstop days when you're on the go from 9 a.m. to 9 p.m.
Not every day is going to require the same preparedness, so we pulled together the go-to essentials in three different bags for three different scenarios, complete with a protein-packed Protein One bar to keep you satisfied and your day from going off the rails.
To help us with our packing lists, we recruited the expert advice of Brianne Manz, expert mom and founder of lifestyle blog Stroller in the City. The number-one rule? It's all about the bag.
"A big bag is always essential, especially for moms," says Brianne. "My bag is always big. If I find myself wearing my cute little crossbody bag, I always have this this ugly, giant canvas tote next to it."
Check out the details below, and above all, remember—you got this.
THE ALL-DAY KIT
You made plans for drinks weeks ago, but then your daughter landed the lead in the school play, there's a lunch meeting with a client you can't miss, and you're still hoping to fit in that yoga session. You know how to keep a level head under pressure, but with a schedule this packed, you could use all the help you can get. That's where these items come in—with a few essentials in tow, you'll be breathing easy through it all.
Portable Power Bank
When you're on the move, your phone becomes your lifeline to the office and to your personal life. Having this in your bag will give you peace of mind so you won't miss a beat.
Band-Aids
Those shoes were comfortable this morning, but by hour six on your feet, you might be singing a different tune. These will come in handy for blisters, and also are lifesavers during unexpected fashion emergencies (like when you realize that your bra strap just won't stay in place).
Protein One Bar
If you're rushing from point A to point B all day, you're going to be tempted to make a beeline for a sugary pick-me-up by 2:30. Instead, reaching for one of these bars (which pack 10 grams of protein into 90 calories and have only 1 gram of sugar) will make you forget about the post-school-play cupcakes.
"Busy moms sometimes forget to eat and take care of ourselves," says Brianne. "I have a thousand snacks in my bag for my kids, and I don't have anything in my bag for myself. I think it's important for moms to refuel themselves and get the right kind of nutrition, which is why Protein One is so helpful!"
Travel Toothbrush
On days when you can't seem to find an extra moment, you're going to be spending more time than usual at the coffeepot. So do your pearly whites (and deskmates) a favor and sneak a few minutes to freshen up.
Sunscreen
Oh, that lunch meeting got moved to an al fresco spot? You won't have to worry about spending the rest of the day looking like a lobster if you have some SPF on hand.
THE GYM BAG ESSENTIALS
You don't have to be a die-hard athlete to understand that a bit of light exercise can recenter your day and leave you feeling full of energy to take on whatever happens next. But managing a tight schedule means that you're squeezing in a walk or quick workout on your lunch hour or right before heading home for dinner—so you have to be prepared to freshen up, fast.
Dry Shampoo
Heading to a parent-teacher conference right after a quick session on the treadmill? You'll look your best if you can refresh your hair after a light workout.
Sample-size Perfume
We assume that deodorant is a given, but a spritz of your favorite scent will have you ready to take on whatever social plans you have after your workout.
A Bag Within A Bag
While at the office, the "bag within a bag" will keep your change of clothes away from your sneakers. On your way home, that same bag will save the rest of your bag from smelling like the gym.
Collapsible Water Bottle
A regular water bottle takes up too much valuable real estate in your bag. A collapsible one will be lightweight and more compact.
Protein One
A Protein One bar packed with 10 grams of protein will keep you satisfied during that workout, so you won't be starving by dinner.
THE TRAVEL BUDDY BAG
Between the connecting flights and last-minute schedule changes, traveling can leave even the most prepared woman feeling a bit frazzled. However, jetsetting can be just as relaxing as the rest of your trip (even if you have kids in tow!). With a bit of preparation (and a well-packed bag, of course), you'll be able to navigate even the tightest layovers with ease—and maybe catch a few hours of sleep on the plane.
Moisturizing Balm
Whether you're boarding a flight or starting on a long bus ride, a few hours of recycled air can wreak havoc on your skin. Pack a multipurpose balm that will keep your hands from cracking, lips from chapping, and your face from feeling tight.
Protein One
If you're traveling, you're even more likely to give in to cravings—so come prepared for a snack emergency with one of these bars. The protein-packed punch will keep you far away from those boxes of candy at the airport.
Ear Plugs
Sure, headphones are great, but if you're looking to get some sleep en route, ear plugs will do you one better. They'll drown out fussy babies and give you some true peace and quiet (no white noise required) to get serious shut-eye.
Besides protecting you from the chill of the cabin, a hoodie can be folded into a pillow or used to cushion an uncomfortable seat belt.
Travel-size Face Wash
Upon arrival, make a quick stop in the bathroom to wash the flight or bus ride off. You'll feel ready to take on whatever is next on your agenda with your best face forward.