Imagine having just a few minutes to evacuate your home. What would you take? Where would you go? This is the exact question posed to residents of Paradise, California on the morning of November 8, 2018. They couldn't know they were about to enter the annals of history as the deadliest U.S. fire in 100 years approached their 141-year-old town.
One month later, they returned to find 95% of Paradise's structures burned to the ground, 85 residents dead and 50,000 people displaced, their water poisoned and a knot of red tape when attempting to receive any outside aid. Rebuilding Paradise, a National Geographic documentary from acclaimed director Ron Howard, chronicles how one resilient community came together in the face of unspeakable loss. Here are four reasons why it's a must-watch.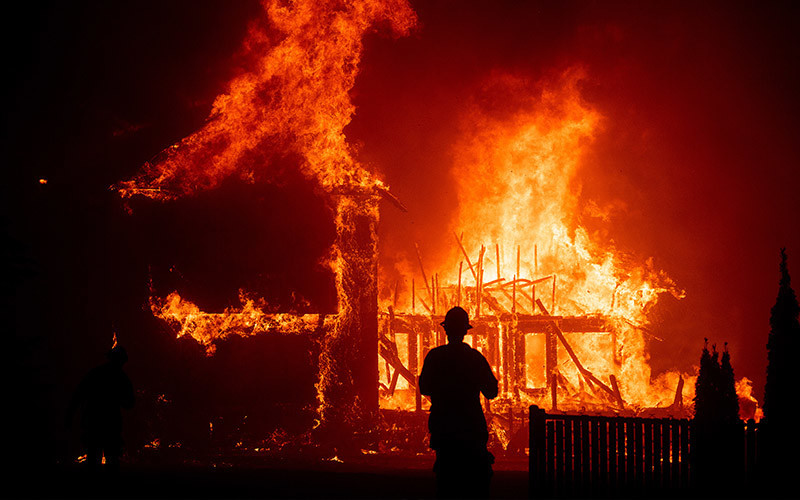 A home burns as the Camp Fire rages through Paradise, CA on Thursday, Nov. 8, 2018. (Photo by Noah Berger)
Understanding the Tragedy
The first ten minutes of this documentary will glue you to your seat. Using a combination of body camera footage from police and firefighters, phone video captured by residents and stunning overhead shots, the morning of the fire comes to life in horrifying, yet human, moments. We see a wall of flames approaching the town, the sky midnight black and glowing red. We watch a woman attempt to put out a fire in her backyard with a garden hose as she prays for her home. We hear the cries of a child as his father drives him along a flame-lined road. People attempting to escape scream that their car tires are melting, the windows are hot to the touch, they can't see even one foot ahead through the smoke and ash. These residents aren't just facts and figures — they're people with whom you empathize and want to fight alongside.
Paradise, CA - Burned down property strewn with debris. (National Geographic/Lincoln Else)
Comprehending the Fallout
It's traumatic enough to lose everything, but to have to fight tooth and nail to get even a bit of it back? Heartbreaking. The Paradise residents show us how they navigate living in tents and shelters, manage the emotional fallout from their experiences, tirelessly attend council meetings and petition for justice, and take on the major corporation whose faulty electric transmission line sparked the Camp Fire (named for the blaze's origin point, Camp Creek Road).
The documentary is also a sobering look at the environmental factors that've caused a sharp rise in deadly fires (do you know what a "pyrogeographer" is? You're about to learn!) It's also a warning: Take climate change seriously, because any town could easily be Paradise.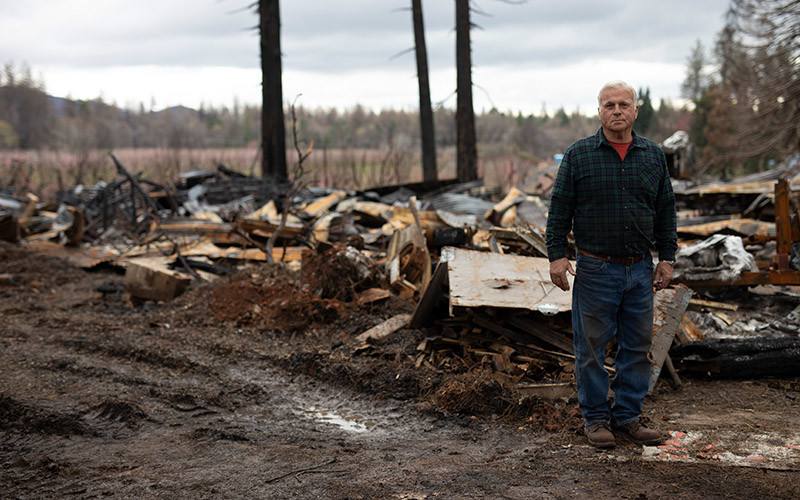 Paradise, CA - Jim Nobel, local business owner, at his orchard. (National Geographic/Lincoln Else)
Remembering the Heroes
What happened in Paradise underscores the old adage that heroes aren't born, they're made. We follow various inadvertent champions: Michelle John, superintendent of Paradise school district; Steve "Woody" Culleton, former town mayor; Carly Ingersoll, a school psychologist helping kids grapple with their PTSD; Matt Gates, Paradise police officer.
They've all lost everything, and yet they find the strength to work around the clock for their fellow residents — often to their own disadvantage. "We had lived there for over 30 years, raised our children there, been a part of the community — we knew that Paradise was a very special place," John said in a Q&A promoting the film. "I had no doubt there was going to be a core group of people that were going to pull together to do what we needed to do — get involved on a state level, get involved on a federal level, not take no for an answer, ask for help, accept help. There was no doubt we were going to do what it took to really give it a try to rebuild our town."
Celebrating the Victories
As we collectively face the challenge of COVID-19, it's especially inspiring to see community coming together for the greater good. Rebuilding Paradise redefines the idea of "victory." It's not all pomp and circumstance and applause, it's the little things that restore a sense of normalcy after major trauma. It's picking up a building permit and breaking ground on your new home after you've been living in temporary housing for six months. It's a superintendent working tirelessly with local clean-up crews to ensure that displaced high schoolers can graduate on their home field.
It's a town throwing a holiday parade as people in hazmat suits clean up the charred remains of their lives in the distance.
"Maintain your traditions, because that's part of the fabric of what home is to people," says former mayor "Woody" Culleton. "It's community, it's family, and the traditions that you share. We're a resilient bunch of folks. We're just going to keep on keeping on."
In a time when we need it most, this film is — above all — about resiliency and hope.
Watch Rebuilding Paradise in select theaters, virtually or in person, July 31. To find a screening near you, visit RebuildingParadise.film.