There's still time to squeeze in a bit more adventure this summer! Take your vacation up a notch from the standard road trip with these pro tips and make the most of your travels.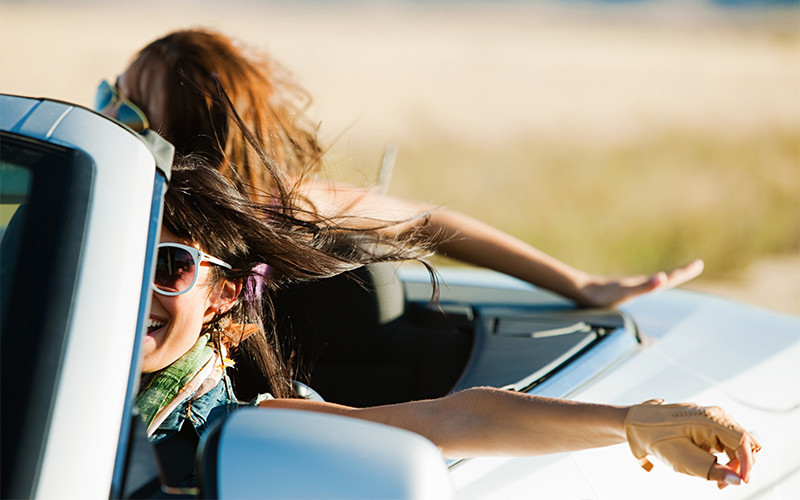 Get Creative
Round up your travel partners beforehand and decide on something you'd like to achieve together along the way for a "group challenge." How about a photo op at each border you cross for a group picture with the state's welcome signs? Or perhaps a collection of something found at each space to take home and display, like rocks, shells, or leaves found at each destination? Or maybe your crew would rather taste-test restaurants along the route to find out who has the best burger or ice cream sundae. Whatever you decide, you'll have a great group activity to focus on and memories to share for years to come.
Choose Your Ride Wisely
Make sure you have a ride that matches your destination and can take you there safely and comfortably. Whether you need lots of room for your family to spread out or a convertible for a trip to the beach, Hertz is your one-stop-shop for finding the perfect car for your getaway.
Have a Loose Plan
Popular attractions and destinations fill up quickly and some require booking in advance, so do your research and make necessary reservations to avoid disappointments. Peruse travel review sites to learn about lesser-known activities and spots along your route that you might otherwise miss. No matter what you've got planned, be flexible. Weather, construction, and tired travelers can throw a wrench in your carefully planned itinerary, but there's always unexpected fun to be had if you can keep your cool and adapt.
Come Prepared
Traveling with kids? Keep them engaged with activities they can do on the drive. Art supplies, building sets, and books can keep kids busy for hours, especially if you stash them out of sight a few weeks before the trip. Be sure to have plenty of tech options ready to go, too: download movies or favorite episodes onto their devices, or pick an audio book you can all enjoy as a screen-free option for the whole family. And don't forget to make a few road trip playlists for your own car karaoke! Prevent sibling squabbles by ensuring everyone has plenty of space to spread out. Rent a spacious SUV or van from Hertz so the whole fam can road trip in comfort and style.
Organize Your Space
Little tweaks can make the difference between a calm, tidy car and complete chaos, especially if you're traveling with children. Have a designated trash bin handy so you can quickly dispose of refuse at each fuel stop. A simple shower caddy can help keep staples like paper towels, baby wipes, and snacks within reach. Packing a small bag with essentials prevents digging through your luggage at a highway rest stop to locate your phone charger.
Wherever you're headed, Hertz has just what you need to get there. Book today and let the adventure begin!