We all love an adorable, meet-cute romance, but then there are the jaw-dropping, against-all-odds OMG stories that will make you believe that true love can conquer anything—from death to hurricanes to prison walls. In anticipation of Love After Lockup's second season, premiering Friday, December 7 on WE tv, here are some unconventional real-life love stories that will give you ALL the feels.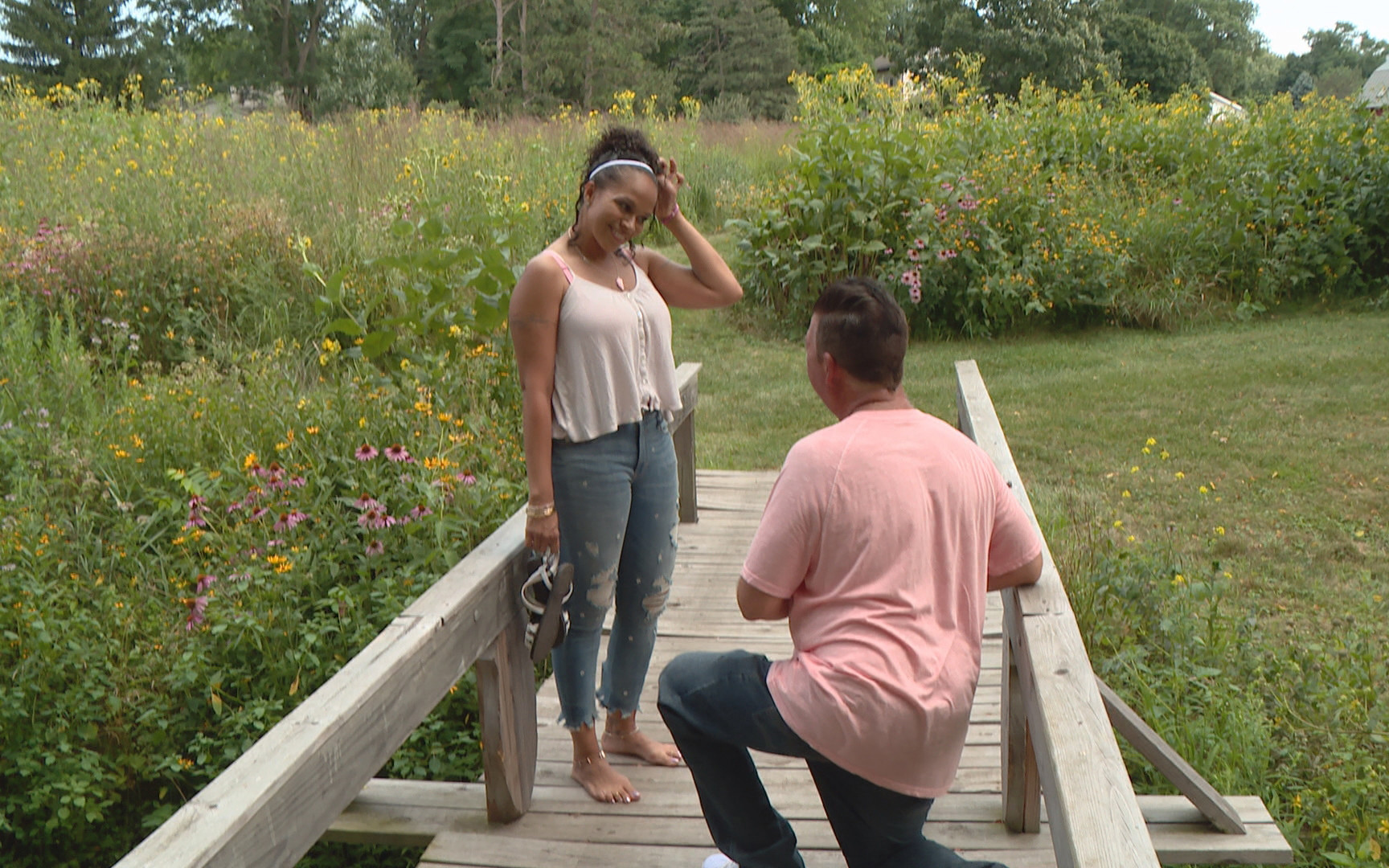 He fell in love with a convict's photos online
Scott, a truck driver who has been unlucky in love, fell for Lizzie the minute he spotted her photos online. ("I'm just a five, and she's a nine and a half!" he says.) The only problem? Lizzie was serving time in prison for bribery and DUI. But over the course of two years, many phone calls, and at least $20,000 in gifts from Scott to Lizzie, the couple fell in love. Scott's friends and family suspect that Lizzie is just conning him, but the besotted Scott is determined to marry his one true love when she gets out. Will their story end happily ever after? Tune in to Season 2 of Love After Lockup to find out.

She fell in love with her priest
When Marylin was 16, she got a job playing the organ at Sacred Heart Catholic Church in her town. She admired the gentle manner of the assistant pastor, Father Atkins, from afar, but didn't speak with him until she was 19—and he was 44. "I had a tumultuous relationship with my adoptive mother," says Marylin, now a retired judge in Detroit. "I started meeting with Father Atkins, and there was a peacefulness with him that I had never experienced before." As the two became closer friends, he confessed to her that he had always wanted to marry and have children, and he left the priesthood soon afterward. "People said our marriage wouldn't last 24 hours," says Marylin. "Well, it lasted 24 years, until he passed away in 1990. The challenges that we faced only served to draw us closer together and make our love stronger."

She fell in love with her sister's boyfriend
When Robin, now a Brooklyn schoolteacher, was 12 years old, her older sister Ellie brought her college boyfriend Chuck home for a family dinner. Robin was smitten—but at 23, Chuck was 11 years older than the middle schooler! "I don't know why, but I thought, 'Someday I'm going to marry him,'" says Robin. Ellie and Chuck broke up a few months later, but that didn't deter Robin. She kept in touch with her crush by sending him frequent letters. They remained friendly throughout Robin's teen years, with Chuck giving her advice and treating her like a little sister. "When I was a freshman in college, I finally wrote Chuck a letter saying that I didn't think of him as a brother anymore and I wanted more," Robin says. Chuck's response? He steered clear of Robin for the next few years. Finally, just as Robin was about to graduate—by now she was a respectable 22 to Chuck's 33—the old friends met again and shared their first kiss. They've now been married 27 years. "Everyone gets along great," Robin says. "My sister has no hard feelings, and her kids all think it's funny that Uncle Chuck could have been their dad!"

They fell in love in the middle of a hurricane
When Hurricane Andrew devastated South Florida in 1992, Mylene almost lost her life—but she also found her true love. "When the storm hit, I hid in my bathroom with a friend for 10 hours with a mattress holding the door in," says Mylene, now a travel agent in St. Augustine, Florida. When the storm finally died down, she and her friend realized that the door was stuck behind a pile of rubble, and they were too high up to jump from the window. "I heard a voice say, 'Do you need help? I'll get you down, stay right there,'" Mylene recalls. It was Jack, an engineer, whom she had seen around the neighborhood. "He worked so hard to get us out. We couldn't thank him enough." Two months after the hurricane, everyone from the apartment complex went out to celebrate their survival, and Mylene was reunited with her knight in shining armor. "I was a divorced mother of a nine-year-old girl, and he just accepted her as his own," she says. Jack and Mylene were engaged three months later, and just celebrated their 25th anniversary. "We lost so much during that horrific storm, but we found each other," she says.

She fell in love with a man behind bars
"I was not looking for love when I found Matt," says Caitlin, from Auburn, Washington, who nevertheless fell for the charms of the convicted felon. They spent only about 30 hours together during prison visits, but they opened up their hearts to each other in letters and phone calls. Caitlin is looking forward to sharing domestic moments, like brushing teeth together and going to the grocery store, but will their romance survive in the outside world? Find out when Matt gets released into Caitlin's arms in Season 2 of Love After Lockup.

She fell madly in love—three times
Jill, a 54-year-old social worker from Southern California, was with her first love, Linda, for nearly 23 years, and raised two daughters with her. When Linda was battling breast cancer in 2010, the couple became very close with the hospice nurse who was caring for her, who went by the nickname Casper. "Linda started telling me I had to marry Casper after she died," Jill recalls. "She told everyone—our minister, our kids, our friends, and my mom—that was her plan for me." But romance didn't cross Jill's mind until months after Linda passed, as she and Casper met to grieve together over dinner. "After three years of caretaking, of watching my Linda fade, I could smile again, and had someone who also knew and missed Linda," she says. Jill and Casper had three happy years together, until Casper passed away from Lewy body dementia—just two months after the couple married. One friend who never wavered through it all was Stacie, the funeral director who had helped Jill through Linda's death. "Stacie stood by me and the kids, and she is now the other grandma on the porch when our two grandsons come over," says Jill. "She was brave enough to marry me. Not everyone can say they have been married three times, never divorced, and that all their wives knew each other."
See more amazing love stories on Season 2 of Love After Lockup, premiering Friday, December 7 at 9/8C on WE tv.