Love, betrayal, disappointment, bliss! Emotions ran high on Season 1 of Love After Lockup, as couples counted down the days until they could be together without hearing the clank of prison bars between them. But adjusting to life and love on the outside brings plenty of drama. Here are the top seven most shocking and emotional moments—plus a hint of what's to come in Season 2. The new season premieres Friday December 7th at 9/8c on WE tv.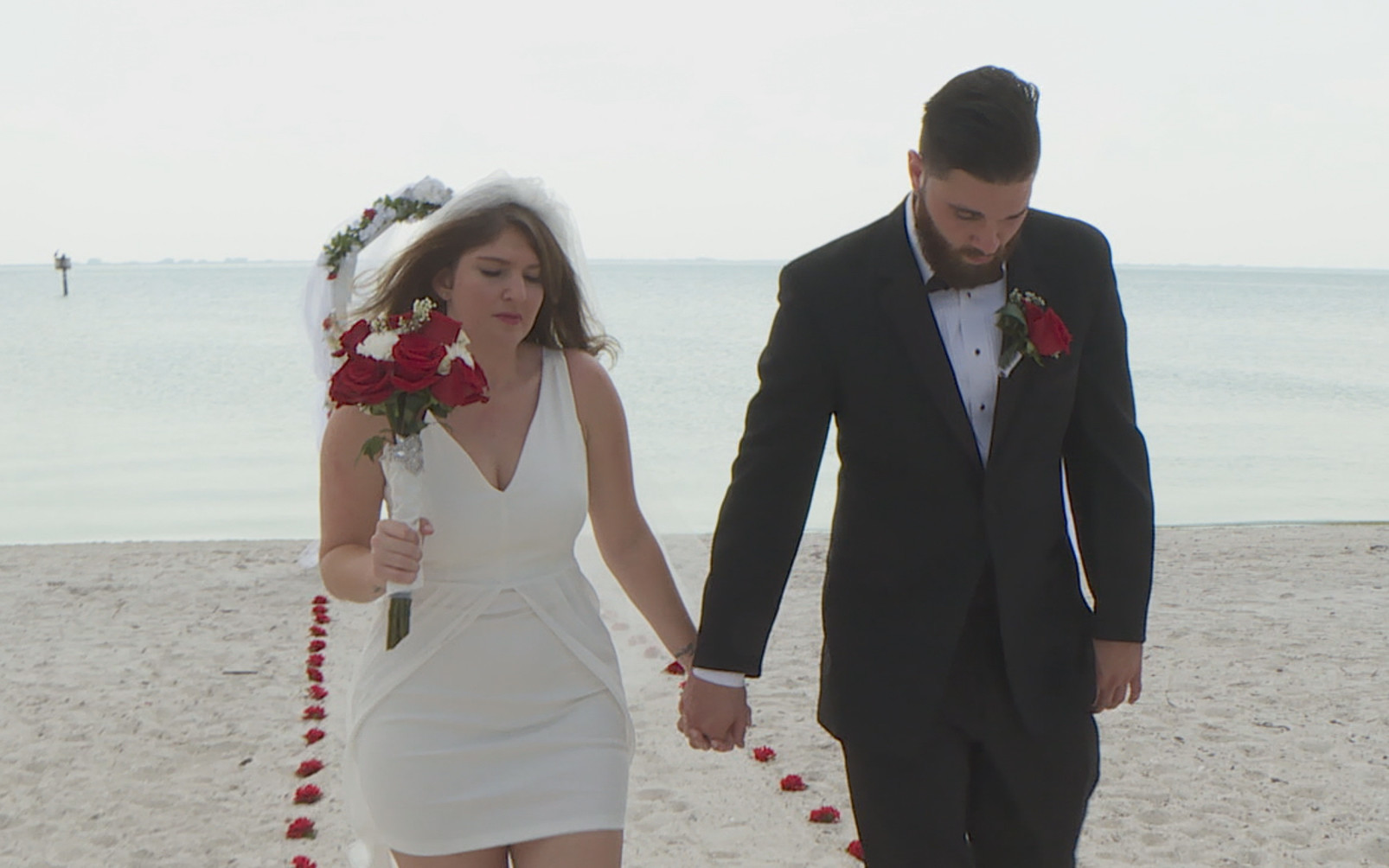 Johnna leaves Garrett at the altar
All Johnna has talked about all season is marrying Garrett. She wants a big, fancy wedding surrounded by friends and family, but Garrett—who has just been released from prison and has no money—persuades her to have a private ceremony on the beach instead. After getting dressed in a restaurant bathroom (the indignity of it all!), Johnna walks down the rose-petal-strewn sand to Garrett, then promptly bursts into tears and calls it off.

Mary's conjugal visit is canceled
It's been a rough road for Mary, who fell in love "at first sight" with Dominic before he was sent to prison for getting into a bar fight. But things are looking hopeful as she prepares for her very first overnight visit with her fiancé before his release. However, after driving hundreds of miles to the prison, Mary is turned away because guards suspect she has drug residue on her jacket. Though she claims she has never done drugs, Mary is forced to drive back home in tears, without getting even a glimpse of Dom.

Andrea and Lamar have a steamy car wash
Even though Andrea's Mormon values prevent her from having sex before marriage, Lamar—who has spent more than 15 celibate years behind bars—still hopes for a little action when his fiancée picks him up. Andrea decides to use the privacy of a drive-through car wash to do "everything the church will allow" right there in the front seat.

Scott gets the shock of his life
Lonely middle-aged truck driver Scott has fallen in love with much younger Lizzie (in prison on drug charges) after seeing her photos on a website. After showering the inmate with money and gifts, Scott brings his skeptical adult son along on the long drive to pick her up. As he pulls up to the prison, however, he finds out that Lizzie is not on the release list. It gets even worse: A conversation with her lawyer reveals that Lizzie's been caught with drugs and a cell phone, and she could be in for another 12 years! Find out what happens to this star-crossed romance in Season 2 of Love After Lockup.

Alla has a relapse
Straitlaced former Marine James has fallen in love with beautiful blonde model Alla, who served time for heroin distribution. He has total faith that she's changed her ways and will stay clean and sober—he even believes that her mysterious bouts of nausea could be signs of a very early pregnancy. But when James comes home one day to find Alla collapsed on the bathroom floor, he sadly realizes she has been drawn back into her old habits.

Johnna finally gets her proposal
Johnna fell in love with Garrett when she spotted his "hot mug shot" online, and despite her dad's vehement disapproval, she plans to marry him upon his release. However, Garrett is more interested in hanging out with friends. Johnna is losing hope that he will ever propose with the "one-carat solitaire" she expects. At her birthday party, she's disappointed when she opens a small box from Garrett and finds a melted chocolate-covered strawberry. Then he hands her a much bigger box, in which there's a smaller box that contains an even smaller box, until she finally unwraps the ring of her dreams.

Andrea makes her wedding guests wait forever
Despite her friends' and children's concerns about her marrying former gang member Lamar, Andrea finally gets the white wedding she wants—but then makes the guests wilt in the heat for more than three hours as she finishes her hair and makeup and waits for her specially designed shoes to arrive ("They're the only thing I'm excited about," she explains). But in the end, bride and groom are giddy as they finally start their new life together.
Ready for more Love After Lockup? Season 2 premieres Friday, December 7 at 9/8C on WE tv.