Kevin Mazur/BBMA2017/Getty
Blake Shelton's just the guy with the girl everybody wants to know — and a shiny new Billboard Music Awards trophy.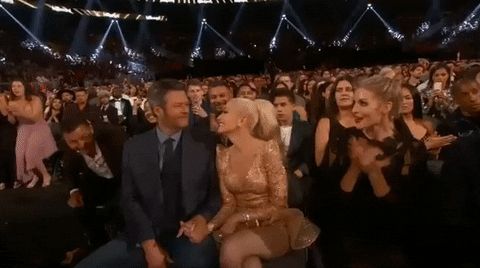 "Wow! That was pretty cool. I had a good feeling," he said during his acceptance speech for top country artist after sharing a sweet congratulatory kiss with Gwen Stefani in the audience. "I felt like I was the luckiest guy in the room anyway because Gwen is here with me, so I had a good feeling about it."
The country singer, 40, had his girlfriend, 47, grinning from ear to ear as he went on to thank his fans.
FROM PEN: Grammy News and Notes: Album of the Year Nominees
"I know this award is based on facts and industry things, sales and streaming and radio airplay and all that stuff, but I think … if it weren't for the fans, we wouldn't have the sales and ticket sales and the airplay," he said. "Thank you fans, first and foremost."
Check out PEOPLE's full 2017 Billboard Music Awards coverage.
Later in the night, Shelton led a standing ovation for Stefani when she went onstage to present the Icon award to Cher.
Throughout the show, the Voice coaches — who have been dating since November 2015 — were seen having a blast in the audience, singing along to performances and cheering on their fellow entertainers.