Chemistry comes easy for country superstars Tim McGraw and Faith Hill.
The longtime couple took to the 52nd Academy of Country Music Awards stage on Sunday night to perform their new duet "Speak to a Girl" — the first single off their highly anticipated joint album, slated for release later this year from Sony Music Entertainment.
Starting on opposite sides of the T-Mobile arena set-up, the couple slowly made their way toward each other for the song's stirring final notes. Hill, in a sparkly gold dress, ended the heartfelt performance with a gleeful jump before rushing into the arms of her husband for a sweet hug and smooch.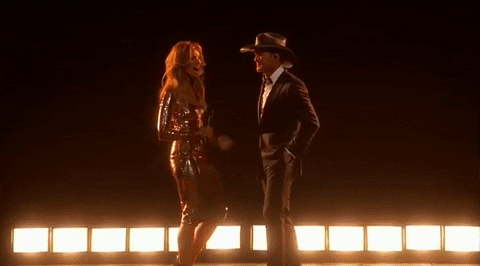 The crowd, meanwhile, was on their feet. (Viewers also caught the two on theirs, as Hill danced with seatmate Nicole Kidman earlier in the night.)
While this album marks the first joint record for the couple, who married in 1996, they have had many collaborative projects over the span of their careers. They even won Grammys for best country collaboration with vocals in 2001 for their hit "Let's Make Love" and, again in 2006 for "Like We Never Loved at All."
Check out PEOPLE's full 2017 ACMs coverage.
RELATED VIDEO: Faith Hill On Returning To ACMs 20 Years After First Performance With Husband Tim McGraw
In addition to the upcoming album, which still remains untitled, McGraw and Hill have already revealed plans for their Soul2Soul World Tour, the third tour of its kind, beginning in New Orleans on April 7.