The two groups performed their collaboration, "God, Your Mama, and Me"
For the first time ever, the Backstreet Boys hit the 52nd Annual Academy of Country Music Awards stage—with some help from their pals in Florida Georgia Line!
The two groups teamed up for an epic performance of their hit collaboration "God, Your Mama, and Me" at the awards show, live from the T-Mobile Arena in Las Vegas on Sunday.
The boys from Florida Georgia Line kicked off the performance on the main stage before Nick Carter appeared on a platform in the crowd and made his way to the whole gang waiting for him at the front of the arena. The two groups had the crowd swooning along with their harmonies as the '90s icons blended perfectly with the country rockers.
The crowd then got a throwback performance of "Everybody" with a country twist. Nicole Kidman and Faith Hill were rocking along as the country and pop group delighted the audience.
But the surprises weren't over as Tyler Hubbard, 30, and Brian Kelley, 31, got in line with the Backstreet Boys and performed a little synchronized choreography. Tim McGraw, for one, seemed to love it, as he looked amazed during the performance — as did Faith Hill, Carrie Underwood, Nicole Kidman and Keith Urban!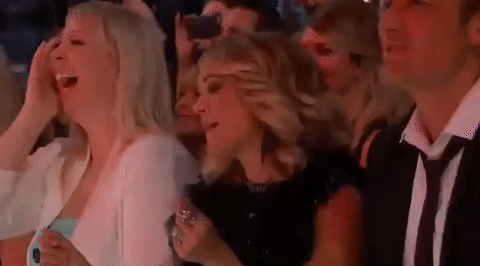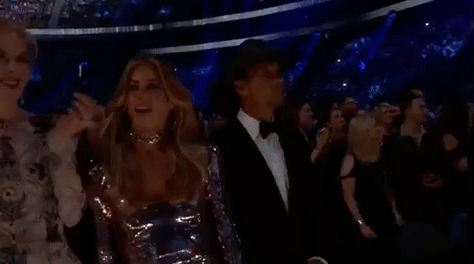 Both men were met with applause and backslapping as they headed back into the crowd after temporarily becoming boybanders.
The Florida Georgia Line bandmates previously told PEOPLE that working with the Backstreet Boys had always been a dream for them. "Sixth grade, House of Blues, Orlando, Florida was my first concert ever — it was the Backstreet Boys," Kelley said. "It was awesome, totally inspiring, and to see it come full circle really reminds us to keep dreaming, to dream big, to put out positive energy into the universe, shine your light, and try as hard as you can at whatever you're great at and great things will happen."
He added: "That's what we were reminded of when making [Dig Your Roots]—whatever success may come, you just keep dreaming and stay true to who you are, and go back to the well for more inspiring. I think choosing the Backstreet Boys was a very natural decision. They were Tyler's first CD back in the day and they were everywhere."
Check out PEOPLE's full 2017 ACMs coverage.
Florida Georgia Line is up for five Academy of Country Music Award nominations including entertainer of the year, vocal duo of the year, album of the year for Dig Your Roots, single record of the year for their hit "H.O.L.Y." and vocal event of the year for "May We All" with Tim McGraw.
FROM COINAGE: What Is the Grammy Bounce? (No, It's Not a Dance Move)
When asked about their nominations, Hubbard told PEOPLE in February: "To be in the entertainer of the year category is a dream come true—just to be nominated—so it motivates us to continue to work hard and push ourselves to be better artists, better husbands, better guys—all that stuff. It feels like a big year, so we're just excited to be a part of country music and the ACMs again. It feels great."