It's Morphin' Time!
Bryan Cranston stopped by The Late Show with Stephen Colbert on Monday night to promote his new film, Saban's Power Rangers. And though he doesn't play a monster-fighting superhero in the big-screen adaptation of the long-running Saturday morning TV show, that didn't stop him from suiting up!
"I've always wanted to be a ranger," the 61-year-old actor explained after coming on the show dressed as a red power ranger. "It's looking really good."
It was a surprising look for the Breaking Bad alum, whom Colbert called "one of the finest, most distinguished actors of our generation."
"Thank you, Stephen, I do try to approach each character with a level of dignity," Cranston said, before asking Colbert to help him take off his helmet. "I would really love to but I don't know how."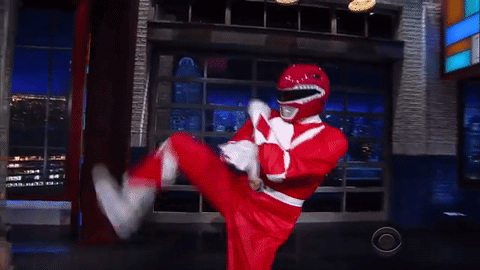 In the film, Cranston plays Zordon. "[He's] a disembodied head in the walls of a ship. Which, you know, is very common," Cranston said.
So how did the method actor prepare to play a floating head in a spaceship?
"I first severed a head," he joked. "You approach a character the same way — whether you're doing something like this in a fantasy sequence or historical context or something."
Source: The Late Show with Stephen Colbert/Youtube
FROM COINAGE: See Where 6 Stars Were Before They Were Famous
Of course, fans of Cranston know the three-time Emmy winner has a history with the power rangers, having worked as a voice artist during the Mighty Morphin Power Rangers 1993 series.
"I played a bunch of different monsters when the show first came over to the states from Japan," Cranston said. "They had needed to dub it into English, and I played a lot of the monsters. 'Cause even at 23, I think when I did it, my voice was rather low. So I would say 'You can not defeat me!' "
But doing the voice-over work for Zordon this time around was a far different experience.
"When I did just the head, I was nude," Cranston joked. "I have a nudity clause in every contract, but it's the opposite of what you think. I have to be naked all the time."
Saban's Power Rangers opens Friday.